Recently I started using windows live writer which is going to increase my productivity in the same way for PowerPoint Tips which we discovered lately. I am writing this Live writer tips based one the problem which I faced while using it for the previous article and think it will be useful for you too. Windows Live writer is a tool which allows you to create , modify and update your posts on many common blog services like blogger, WordPress, Sharepoint and MSN space. You can download windows live writer if you want to give it a try. It's worth it. Moreover I have written this in taking care on the account for beginners also. You can download Windows Live Writer
Here are some essential settings before you get started
#1 Update Style:
This feature allows you to get the style setting from your theme so that you can get the same look and feel as on your blog itself. For an example it gets to know how wide is your space for writing article and restrict to write in same amount of space. Go to Weblog > Edit Weblog Settings > Editing and click on Update Style button. This will extract your style and make necessary settings for you.

#2 Setting the Preferences
Live writer comes with some default settings which might or might not be suitable for you. Go to Tools > Options. Then click on preferences. Change the following options as it suits you.
Under Post Windows , Select Open a new window for every post. This is essentially required if you want to open another post for your reference, By default it will try to open in same window and will ask you to close the already opened.
Under Publishing Check on all these – View post after publishing, Remind me specify a title, Remind me specify a categories, Remind me specify tags.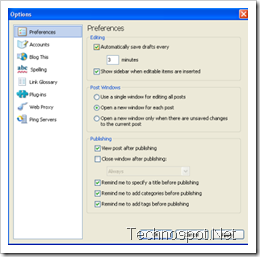 #3 Setting the Spell Check choices:
Spell check if extremely important when you write an article. Its a good thing if somebody reminds you every time before you are going to publish the post. Spell Check settings does it for you. Go to Tools > Options. Then click on Spelling. Change the following options as it suits you.
Under General options – Select all three ,Use real time spelling check ( This can tell you as soon as its a spell error) , ignore spell check for Upper case and words starting with number.
Under Spelling from options – Check remind me before publishing and uncheck – use automatic corrections. This last option will be preferable for food blogs which use of native language.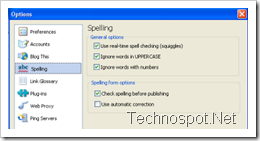 #4 Preparing your Link Glossary:
A link glossary is like collection of links which you can reuse anytime by just one click. You might prepare it now or do it as it comes. This will be handy when you refer some links more often or you want to add it for future reference. Go to Tools > Options. Then click on Link Glossary. There is an ADD button which allows you add a link with some predefined links. Add and use it any time :).

#5 Setting up the Web proxy:
I asked some people around and they said some for some people are behind proxy and so the connection setting fails. So if you work with your live writer from office or a network do not forget to set up your proxy settings. Go to Tools > Options. Then click on Web proxy.
Check on Specify Custom Proxy settings.
Enter your username, password , proxy server address and post number.
By Default it uses port number 8080. If this fails for you , try asking your network administrator which post to be used.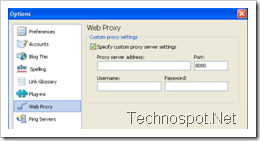 #6 Setting up Ping servers:
Ping Servers are services which when notified come to your blog and read the latest article you have written. This is essential for anybody so that your details gets updated at services like Technorati and others. Go to Tools > Options. Then click on Ping Servers. Check on Send ping to these URLS. Add the below list into it .
http://ping.amagle.com/ http://ping.bitacoras.com http://ping.blo.gs/ http://ping.bloggers.jp/rpc/ http://ping.cocolog-nifty.com/xmlrpc http://ping.feedburner.com http://ping.rootblog.com/rpc.php http://rcs.datashed.net/RPC2/ http://rpc.blogbuzzmachine.com/RPC2 http://rpc.pingomatic.com/ http://rpc.weblogs.com/RPC2 http://xmlrpc.blogg.de/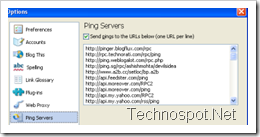 #7 Press F2 before Publishing :
This is most important, I did not knew these settings and published my post . Then I realized these settings don show up while you publish. So press F2 before you publish and you need to add the following things
Post Slug
Excerpts ( if you use)
Categories
URL for sending trackbacks ( if you have linked to any other post)
Set the publishing date
Turn on or off comments and pings.

#8 Save Draft Options
This is essential to understand. When you work from the editor right on your blog, it can save it automatically but when U save using live writer it saves it on your computer. So if you want to save it on your weblog as draft , Go to Save Draft and choose one of the following options
Save to Local Draft ( This saves on your computer)
Post Draft to Weblog ( This will save the post to your weblog )
Post Draft and Edit Online ( This will save it on your web log and also allow you to edit it online )
If you want your posts to be save automatically to weblog as you write. Go to Tools > Options. Then click on preferences.
Under editing you will see a check box (Save posts every ) , enable it.
Now under text "Save posts every " enter the preferred time for autosave.
Note: Check the First Image under preferences settings
#9 Open Older Posts:
If you had been live writer for a while, you can skip this but this is essential for a beginners. If you want to retrieve and edit your older posts , Click on Open button and it will popup a window which will give you options for opening drafts and recent articles or even pages ( if supported). Click on any of the list and it will open up.
Note: A word of caution, There is a delete button available in the same place. DO NOT press it else it will delete your posts from web log directly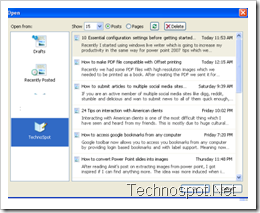 #10 Backup Your Windows Live writer settings :

This point I am keeping as an option open to readers and live writer power user. I did found a plugin available but it did not work. So if anybody is aware of "How to" on this, I will add his recommendation here and link back to his main blog or post.Do tell us in comments and we will workout to see if its correct , you are in.
Update: Also don't forget to read Beginners Guide on Image formatting tips using Windows Live Writer
I hope this helps to lot of people who are new to windows live writer. Some of the points even can apply to existing users., I would welcome any correction or mistakes you find here.