Here is an ultimate list that will not only give you some hidden features but also increase your speed and productivity with Office PowerPoint for creating a slide show. For a few days, I had been working on it, and here is the final list. We will discuss right from creating albums to formatting images and how to apply transition effects in PowerPoint. Here is a list of Best PowerPoint Tips and Tricks for Office 365 and Earlier Versions.
Best PowerPoint Tips and Tricks for Office 365 and Earlier Versions
Here is the list of tips we are covering for Office PowerPoint, and most of them are available in all the versions.
Create Photo Albums
Quickly Apply Transition effects
Pin Recent Presentations
Activate The Developer Tab
Accurate Placement of objects like image
Recording Narrations and Video
Save the presentation to Older Formats
Setting up Layouts
Page Setup for presentations
Using Smart Art
Custom Animation
Create a custom slide show
Disable image compression
Deliver presentation on two monitors
Change resolution of a slide show
It is possible that options may differ depending on the version of Office you use, and the operating system.
1] Create Photo Albums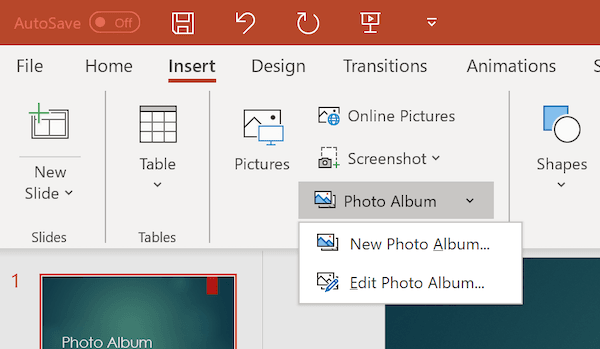 PowerPoint has an inbuilt feature, which thats lets you create slides using available pictures within seconds. If your slideshow needs to have a lot of images and less text, then you can use this feature. Once you create, it will create a new PPT using these images.
Click on the Insert tab > Photo Album Icon > New Photo Album to open Photo Album Wizard.
Here you can click on the File/Disk button to browse and select images that you want to add.
Once you add them, you can then arrange the sequence by using up and down keys.
The same section gives you the option to

add a text box, i.e. blank slides
choose theme
add captions for images
Picture Layout and frame shape

After this, click on create, and your album is ready.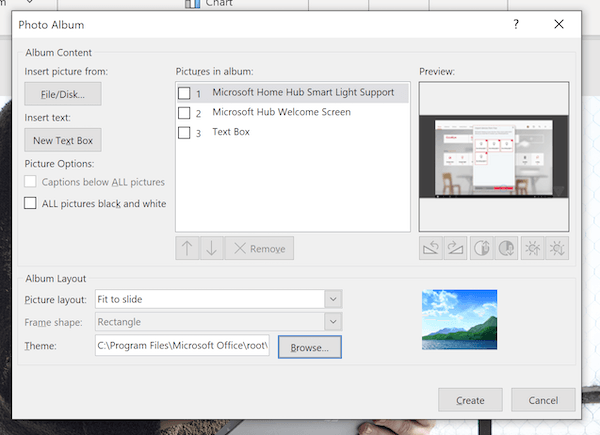 2] Quickly Apply Transition effects
In the previous version of Microsoft office, it was not easy to apply transition effects. Right-click, choose, and whatnot. In PowerPoint, you get Animation Tab in the menu, which opens up a list of transition effects which you can apply in just one click.
Go to Animations Tab, Select the slide, and then choose the animation. As you keep using, frequently used will be shown above all. Else you can click on the dropdown and then select.
3] Pin Recent Presentations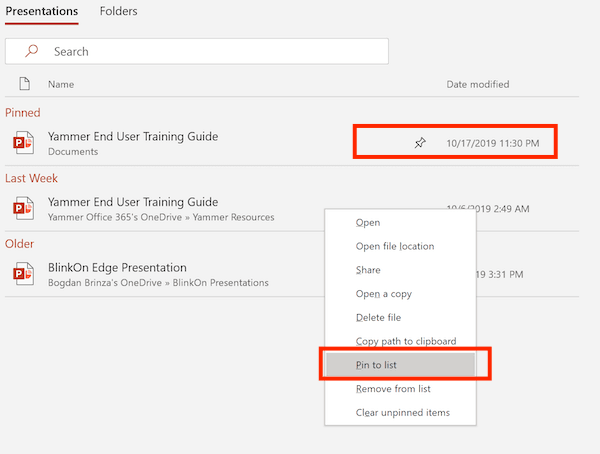 It gets annoying if your often or critical presentation gets deep buried in the recently open presentation list. Every time it happens, you need to find and open it manually. Instead, you can choose to PIN those presentations under the Open menu.
Click on File > Open > Right-click on any of the presentations and click on Pin to List.
You can also hover your mouse pointer, and then click on the PIN icon to do the same.
All the pinned ones will be available on top of all.
4] Activate The Developer Tab
If you are making an interactive slide show which uses custom Macros with PowerPoint, then you need to activate developer mode. The Developer is not displayed by default, but you can add it to the ribbon.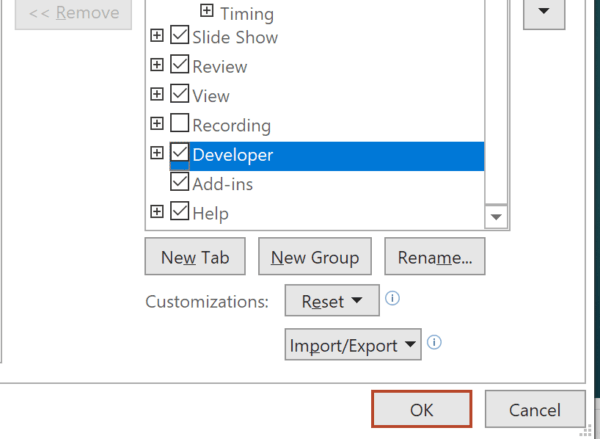 On the File > Options > Customize Ribbon
Under Customize the Ribbon > Main Tabs, select the Developer checkbox.
Once you apply the change, a new Developer tab will appear in the Ribbon menu. It has options for Visual Basic, Macros, Macor Security, Add-ins, PowerPoint Add-ins, COM add-ins, etc. You can use it to:

Write and run macros.
Use XML commands.
Use ActiveX controls.
Create applications to use with Microsoft Office programs.
Use form controls in Microsoft Excel.
Work with the ShapeSheet in Microsoft Visio and create new shapes and stencils in Microsoft Visio.
5] Accurate Placement of objects like image
When you insert, an object like image aligning to an exact position can be done by selecting the object and then moving it with direction keys holding the CTRL button. This gives you movement in pixels and hence, better placement. Use the gird view enabled to boost this method.
6] Recording Narrations & Video
PowerPoint lets you record narrations for every slide. It can be helpful if your availability is not possible when the slide show has to be shown. You can use the Record Slide Show feature to record audio, video which will be played when anyone runs the presentation.
Switch to SlideShow tab, and then click on Record Slide Show
It opens a recording screen where you can choose to use Microphone, Camera to say for each slide.
You also get access to notes and highlighter
If you want to start from the current slide, select Current Slide, else it will be from starting.
Save at the end, and you will be asked if you want to save the timings for each slide.
Once done, you can always replay it.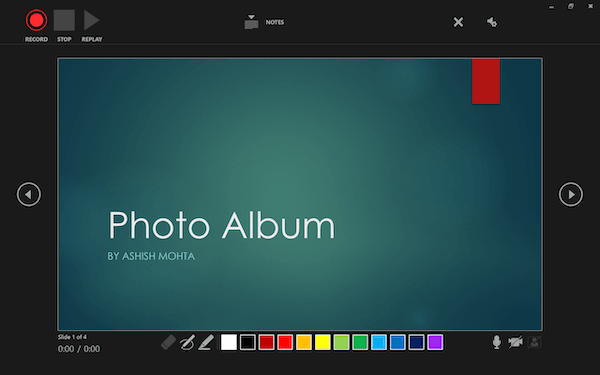 7 ] Save the presentation to Older Formats
Its one of the common problems that slide shows created in the higher version doesn't tend to open in another computer, which is running the previous version of Office. In case you don't see the option to save in 97-2003 format, do the following to enable it.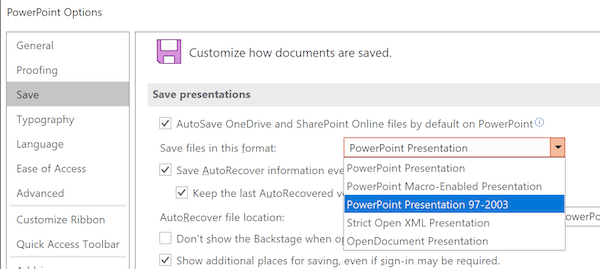 Click on File > Options > Save
Click on the drop-down menu for Save Files in this format
Choose PowerPoint Presentation 97-2003.
Once you set this, the current presentation and future presentation format will be saved in this. Use it wisely.
Once done that, next time, click on Save as, and then choose 97-2003 format from the dropdown.

8] Setting up Layouts or PowerPoint template
As a default, PowerPoint gives you a layout that contains a footer, a header, and some list items in the body area. Now suppose if you want to change it to some custom which you can use every time you want to create a slide show.
Go to View tab of the menu > Slide Master
On the View tab, in the Master Views group, choose Slide Master.
Here you can insert place holder, Title, Footers, Themes, Colors, custom slide size, and more things.
Done those, save the file.
Next time you want to create a presentation, open the same file, and create your PPT.
9] Page Setup or Slide Size for presentations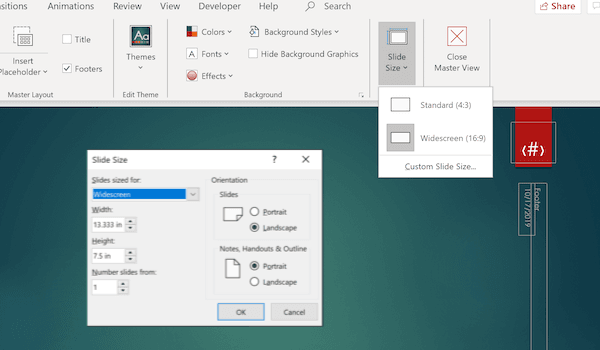 Depending on the type of projector or screen, it is a better option to change the display accordingly. A standard 4:3 resolution will look bad on the widescreen like projectors. To change the page setup simply
Go to View Tab and Click on Slide Master.
Click on the Page Setup icon.
Here you can set for custom or available presets. As of now, you can choose between Standard 4:3 or Widescreen 16:9.
If thats not enough for you, click on Custom Size, and then you can choose Width, Height, number slides from Landscape or Portrait mode for slide, notes, handout, and outline.
10] Using Smart Art
Smart arts are designs and shapes which can be used to improve the presentation looks. The advantage of this is they change color according to your theme, unlike standard text, which doesn't.
Go to Insert Tab > Smart Art Icon
A wide variety is found here which you can use. It also gives a live preview.
Thats it! Simple and straight through the points. It just took a little over 2 hours for research and writing. Do share your comments and thoughts, and please do let me know if you have any more and correct me if I am wrong somewhere. I am sure that if you use it, you will surely impress your clients and boss.