Your business card is usually the first interaction that people make with your company, and it's crucial to create a great impression from the first time they see it. In addition, it makes it effortless to make your company easily recognizable, not to mention the fact that it's an easy way to hand in the contact details of those who meet with someone in person.
If there's one thing that is a powerful tool for networking in the absence of technology is bound to be the business card. You can purchase or create yourself according to your personal preference.
To help you make the process simpler, here are the most effective tools and platforms that can aid you in designing one by yourself or get an expert to design it for you.
Desirable features of business card design tool:
User-friendly interface for non-designers

Design flexibility

A wide selection of templates are available

You can control the layout precisely

Professional designing features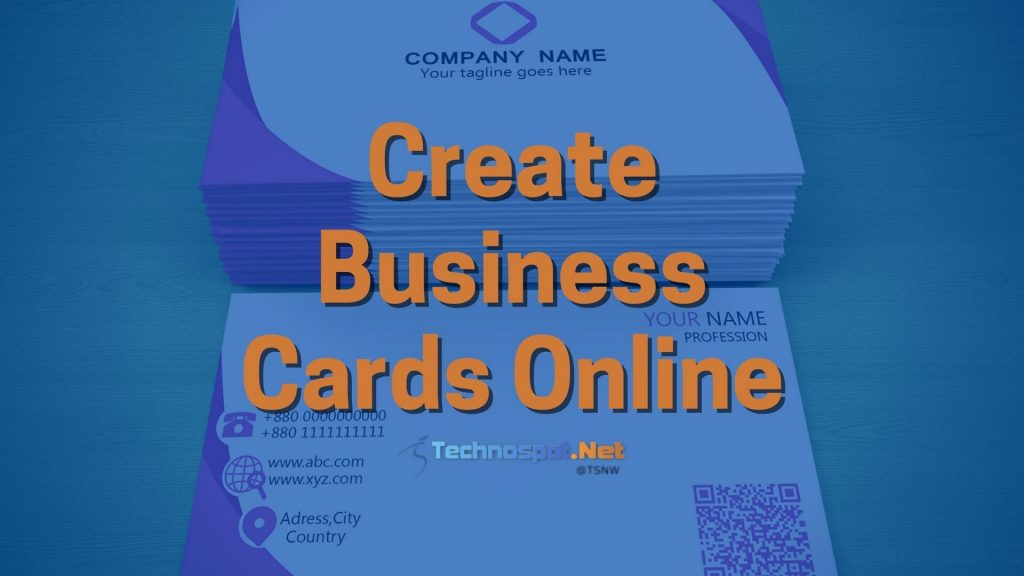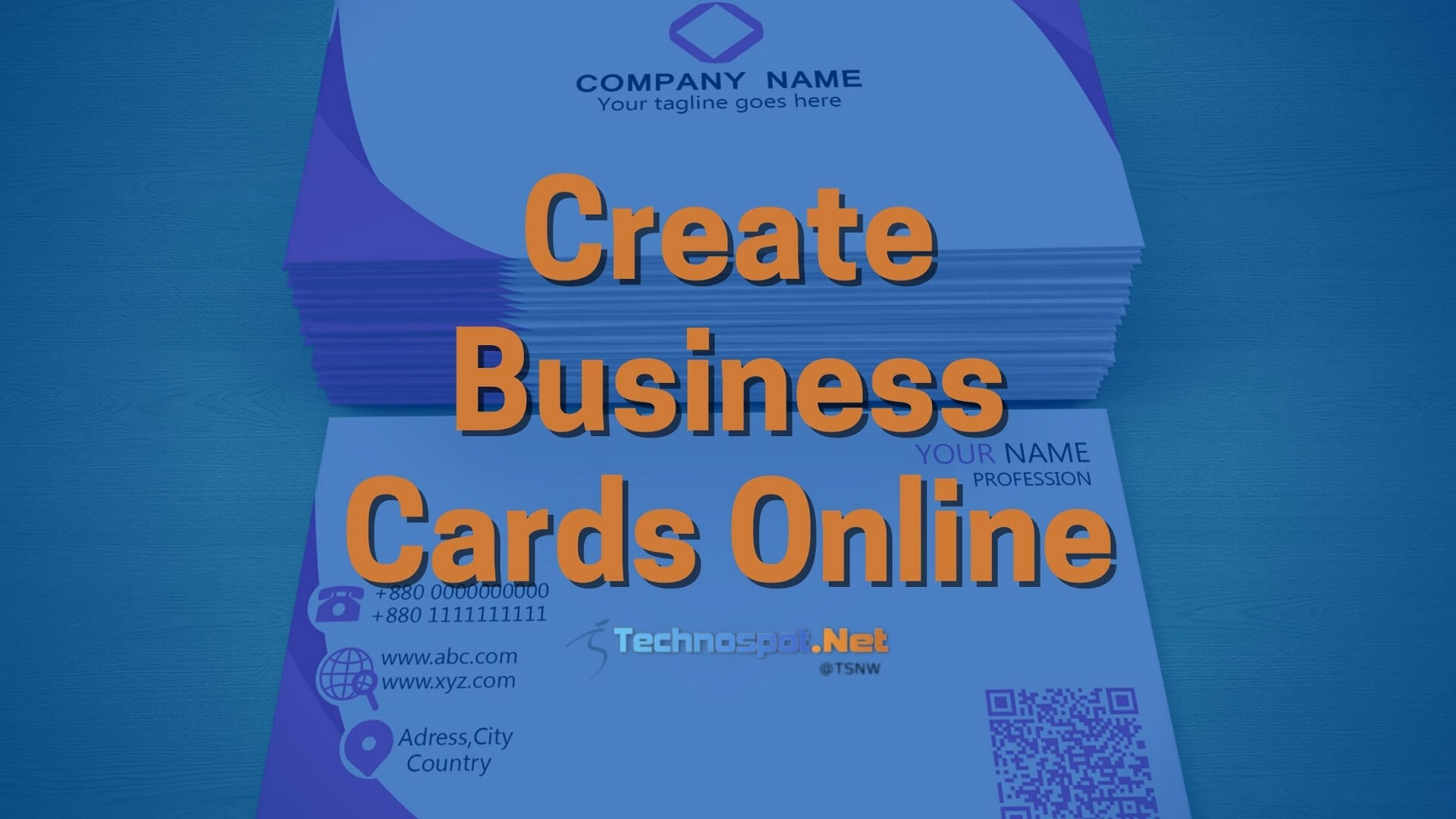 Best Sites to Create Business Cards Online
Here is the list you can try and create your Business Card on your own.
Canva
VistaPrint
Adobe Spark
Crello
PsPrint
Every business tool works differently. Ensure to try a couple and then make a choice.
1] Canva
Canva is a well-known tool used by many small companies to design business cards for no cost. The most appealing thing about creating business cards with Canva is that you don't have to be an expert graphic designer. Its drag-and-drop business card maker can assist you in making your card with ease.
Canva gives you access to an extensive selection of designs that effectively put others in the shade. You can pick any available template to help you start your design. It is also possible to scratch by using the different methods, backgrounds, images, and font styles available to you. You can also upload your photos to personalize your design.
Additionally, you can save your designs in PNG, JPG, and PDF formats or have them printed for an additional cost. You can also get an MP4 or GIF image of your design to use for presentations. If you are looking to create stunning business cards, this tool is the ideal choice.
2] Vistaprint
The Vistaprint tool is the solution to consider if you search for an efficient and straightforward method to create your business card without designing it from scratch.
Pick from hundreds of professional-looking designs for your business card, edit them to fit your requirements. It is possible to use the default design for quick and easy designs or edit them by adding additional text fields, adding more images from the library, or including QR codes. 
The program even comes with an option to preview the layout, which gives you an exact representation of the design when printed. The fascinating aspect is the possibility of uploading your image to its editor. The program will then sharpen the picture for you and add some additional elements to it. If you're using its templates or designing your own, the tool is one you can rely on.
3] Adobe Spark
It is the most well-known graphic design tool and a business card maker. Using Adobe Spark Post, you can design gorgeous business cards that make your company be noticed. With this professional card maker's user-friendly interface, you can personalize every aspect of the card to create a distinctive image for your company.
The tool lets you select the dimensions of your card based on the purpose for which you will use it. Then, you can choose any high-quality templates and high-quality photos or upload your images to use for your design. 
As the graphic design counterpart, you can choose from various options to make your design stand out. With the various image filters that you can apply to different fonts and text styles, making a design you love is quite feasible, so be creative. Additionally, the tool can be used to create more than just business cards due to its flexibility.
4] Crello
Crello is a chic and elegant method of creating your business card while offering you complete control over the whole process. Begin by selecting from a variety of professionally designed templates to make it easier to create your own. You may also choose to start from scratch by picking from their numerous backgrounds, fonts, and other objects. If none of the designs meets your needs, upload your image to create a more personal look. Designing the back of your card is feasible using this tool, which is always a great idea.
Another excellent benefit is the possibility not just to undo changes but also make them again. It allows users to evaluate designs with different variations. Also, it is possible to download the design in various formats, including PDF, JPG, or PNG. If you're searching for a secure method of creating a business card, this tool is perfect for you.
5] PsPrint
PsPrint is a simple tool that allows you to select your business card's orientation but also permits you to choose the design of its edges, which is distinctive. Then, you can choose from a variety of templates to provide more efficient editing. It is also possible to make everything by yourself to give it an extra personal touch.
It also provides a variety of images and basic shapes that can create a unique design. You can customize your text to include borders and colors and fill color. You can also choose the font you choose from the options. 
The most distinctive feature is that it blends the design pane and the preview into one. The changes you make reveal the appropriate options windows to make it easier to navigate. The grid lines are obscured until you begin moving things around. It even has a minimal ruler for more precise measurements.
How Do I Make a Business Card?
Business cards can be made by following two steps:
Design: You can create this yourself using creative software based on your type of computer, either a Windows or Mac OS computer. You can hire a designer or download an existing template to include your contact information.
Print: When you call a printing company, there's a wide range of pricing options based on the size, colors, volume, quality of paper matte or glossy, UV protection, as well as shipping.
What Are the Key Features to Design a Business Card?
These are the tips to keep in mind:
Maintain it neat and clean.

Three complimentary colors are the maximum.

There is no need to enter your complete information.

Think about a call-to-action or tagline.

You can print it on high-quality paper.

The font is legible and has a distinct design.
What Size Font Should Be on Business Cards?
There's no definitive answer. Your font size will be contingent on the design template you choose and the quantity of contact information you're including. It is essential to ensure that your font is clear and easy to read both in dimensions and styles.
How Much Will Business Cards Cost?
You can make business cards at no cost or purchase premium quality cards based on your budget. Utilize one of the business card makers mentioned above to design your card and then pay printing services to get the hard printed copies.
Conclusion
The business card will always be an essential aspect of your strategy for branding. In the past few years, the business card design process has drastically changed. These days you do not have to spend a lot to get the assistance of professional graphic designers to sketch out an idea for your business card.
When designing your business card, you need to design it to reflect the values of your company. With these no-cost online tools for creating business cards, you can get the perfect card for your business.