PDF Files have been a very powerful mode of communication (used esp. for long text files), and unfortunately none of the Windows versions have that as an in-built utility. PDF Files need special software to open/read a PDF File, this software is generally termed as PDF Reader. Here I am enlisting the five most widely used PDF Readers with a comparison table at the end to show the best pdf readers out of it. Get more on software tested in our compared and tested series

Adobe Acrobat Reader 8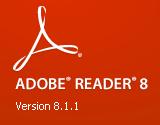 Adobe Acrobat Reader is probably the most popular, powerful PDF Reader. It can be downloaded here. This free software lets you view and print Adobe Portable Document Format (PDF) files.
Positive Features:
Adobe Reader allows to view, print, search, sign, verify, and collaborate on PDF documents, online as well as offline.
It offers several display options at different zoom levels depending on the documents need for exacting details. A full-screen mode lets you view documents without distraction.
You can also complete and submit PDF forms online.
Negative Aspects
Apart from above positive features, there are few negativities attached to it,
Vast 22.32 Mb setup file, [currently (41.41MB) Version 10.0.1].
Takes long to Launch the Reader.
Changing the pages in long PDFs is often not very smooth.
When installed takes around 169 Mb of disk space.
You can read more reviews on the download link given above.
Foxit Reader 2.2

Foxit Reader is another free PDF document viewer.
Main features of Foxit 2.2
Incredibly Small i.e. Setup is just 2.1 Mb. [11.98 MBs Version 5.0.1.0523]
Launches Instantly without any delay.
Annotation Tool Foxit Reader allows you to draw graphics, highlight text, type text and make notes on a PDF document and then print out or save the annotated document.
Text Converter whole PDF document can be converted to a simple text file.
Read more about Foxit Reader 2.2 Yet this is a very Light Weight PDF Reader with several features, but it has some issues while opening an online PDF. Read Reviews on Foxit Reader 2.2
PDFescape

PDFescape is an online PDF Reader / Editor / Form Filler / Form Creator.
Features of PDFescape
This is a free service.
Open PDF files from your local computer and the web.
Fill out PDF files with Form Fields
Add Text and Shapes to PDF files without form fields
Add Links and New Form Fields to PDF files
Save PDF files to your local computer
Have PDF files emailed to you or any other email address
Restriction is File should not be more than 25 pages.
You just need to create an account and start using PDFescape. Being an online PDF Reader, working with PDFescape is totally dependent upon the speed of your Internet connection.
PDFescape has its offline counterpart too, AKA PDFtypewriter , but you can only have its trial version here as it's not a free software. The same company allows you to have another free software i.e Free PDF Text Reader 1.1, but as the name indicates, its just a PDF text Reader, nothing more than that. [Isn't available anymore]
PDFHammer.com

PDF Hammer is another online PDF reader, being in Beta You can only open PDF files having not more than 100 pages. You can upload the PDF file and start using the features, no account creation is required.
PDF Hammer currently has the following features:
Reorder pages
Delete pages
Append PDF to another PDF
Features coming soon:
Rotate pages
Apply Watermarks and stamps to pages
Once you upload the file you can view the pages by taking your mouse cursor over the pages, the page upon which you take your mouse cursor enables the zoomed in view of that page in the right, I tried opening few PDF files but the zoom in was not sufficient enough to allow me to read the pages, I am not sure if this issue is going to get rectified soon, or it allows only bigger font PDF files to be read into it.
Cool PDF Reader
Last but not the least, Cool PDF Reader is also a very good option if you are looking for a PDF Reader.Most appealing feature of this software is its size, which is just 655Kb to download.
Other features of this Software are as follows
View and Print PDF
Convert PDF to BMP, JPG, GIF, PNG, WMF, EMF, EPS
Extract PDF to TXT
Support PDF files of all versions
Work with 68+ different languages
Zoom in and zoom out
Rotate page displays
Slide show PDF document with full screen
Yet I didn't find this software very smooth, but the features above just on a 655Kb download, that is really appealing.
A Quick Comparison of all 5
| | | | |
| --- | --- | --- | --- |
| Name of the Reader | Download Size | Time taken to Launch | Features/Issues |
| Adobe Acrobat Reader 8 | 22.3 Mb | High | Offline as well as online access to PDF files, Working with software is generally not very smooth |
| Foxit Reader 2.2 | 2.1 Mb | Instant enough | Very smooth working, Takes less space and resources, Issues faced while trying to open online PDF files. |
| PDFescape | No download required | Depends upon your Internet connection | Has nice tools to edit your PDF Files, limitation is- File should not be more than 25 pages approx. |
| PDFHammer.com | No Download required | Depends upon your Internet connection | Trying to read a file, may not be helpful, but very good for deleting and merging more than one PDF. |
| Cool PDF Reader | 655 Kb | Launches instantly, but loading a file may take time. | Working is not very smooth, but has a wide range of features. |
Update: though this post was written long time ago, however the performance of the applications and services has not changed much, also this post was written after testing these tools on a very old PC, which has 160MB [128+32] RAM, and a Pentium Processor. However having a look at the current configurations of the PCs, this can be said that the 'heavy applications' are the things from fast, all one should worry about is, if the particular application is meeting all his/her requirements. Foxit Reader, which now allows several more options, like annotations, highlighting, adding a sticky, etc. remains my favorite, and I recommend it, in my opinion, Foxit is the best Free PDF reader available for Windows.
Related : 5 Popular Audio Players – Compared and Tested [ Windows ]