It's safe to say that we have come a long, long way since mobile phones were first invented in 1973. If you're old enough to remember, we don't need to jog your memory. For the Millennials and the Gen Z crew, the Motorola Dynatac 800X was the first handheld mobile phone and loudly announced the beginning of a new era. It neither looks nor functions like anything on the market today.
Almost every mobile phone available now is a smartphone, and consumers expect nothing less. If you're currently looking for an upgrade or replacement and want to know what's out there, it's your lucky day! We've put together the 6 best smartphones for every budget.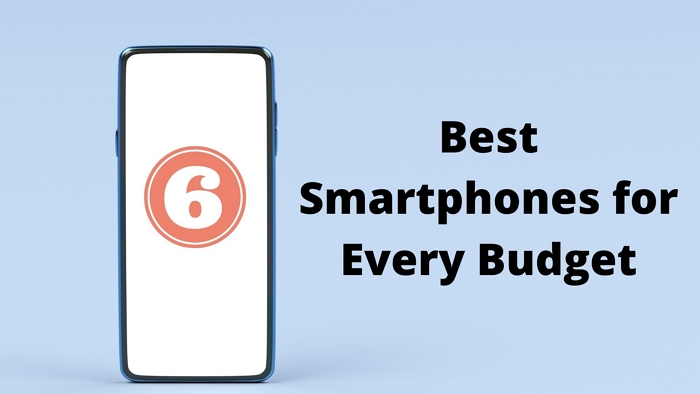 1] Apple iPhone 13
There's a reason that Apple is worth an astounding $3 trillion. The brand has amassed a cult following due to its innovative technology. Their biggest seller is their smartphones. If you too appreciate the latest and greatest, we recommend your next mobile phone be the iPhone 13.
Coming in at around £779.00, it's not the cheapest smartphone on the market, but it is one of the best. This fancy model features a ceramic shield front, a Super Retina XDR display with True Tone, and an A15 Bionic chip.
2] Samsung Galaxy S22 Ultra
Have you steered clear of being swept up in the iOS wave? If the Android system is more to your taste, we present the fabulous Samsung Galaxy S22 Ultra to you. This unique device offers a 6.8-inch screen, four rear cameras, a 10x optical zoom, and a built-in S Pen stylus. Wow indeed.
Shockingly, this phone is more expensive than its iPhone 13 rival, available to buy from a hearty £1,149.00 if you do have the financial means to splash out this much on a smartphone, go for it!
3] Google Pixel 5
Although the Google Pixel 5 isn't the latest in Google Pixel releases, it's still a great choice of smartphone – especially if you want a cost-effective device without compromising on fantastic features. For just around £385.00, you can still enjoy battery-sharing reverse wireless charging, astrophotography and cinematic pan camera modes, and smart device controls.
4] Huawei P30
Do you appreciate luxury smartphone features without the luxury smartphone price tag? We strongly recommend you look into Huawei Android phones for your next upgrade. The Huawei P30, for example, can be secured from just £166.00 and still delivers all the smartphone must-haves.
One of the most versatile and capable cameras at launch with excellent battery life, you can choose between a vast range of gorgeous designs and color options!
5] Xiaomi Mi 11
The Xiaomi brand isn't as well known in the UK as most of its competitors, but their smartphones shouldn't be overlooked! Another device linked to the popular Android system can take advantage of a 4,600mAh battery capacity, 20MP front camera, and 6.81-inch display.
What are we looking at in terms of price? You can get all of the aforementioned pleasures from just £249.00.
6] OnePlus 9 Pro
Despite the smartphone competition being one of the strongest, the OnePlus 9 Pro certainly holds its own and makes for a fantastic choice. OnePlus, a Chinese consumer electronics manufacturer headquartered in Shenzhen, released their first phone in 2014, and it's been plain sailing since.
Available to buy from around £700.00, you can make the most of a spectacular, ultra-wide camera, smooth performance, and impressively fast wireless charging. A flagship device indeed!