Windows 7 comes with a special feature called as Jump List which is specifically used by many programs to provide quick menu options like we have seen in Chrome.  But how about grouping a set of commonly used programs into a jump list ?
7 Stack is one more program after Jump List Launcher which allows you to create custom  jump list with some advantages and few disadvantages.
7 Stack Features :
Integrates well with Windows 7 GUI,Themes etc.
Animation,  User defined icons, Displaying thumbnails, transparency settings etc.
You can either create stack type, grid type and menu type of jump list.
Give your own caption, Directly include special folders like desktop, program menu, favorites, document library etc.
Create MAC OS X like stacks.
Few disadvantages :
You cannot reconfigure a stack once created unless you pin it to task bar. This is little odd as it allows you to create jump list to desktop which doesnt make sense.
Repeating : There is no direct option to pin it to task bar. You need to drag and drop on it to pin.
In order to edit it you need to right click on jump list and find the option to edit, browse, change the view to grid or menu style etc.
And here is a how Jump List Launcher works :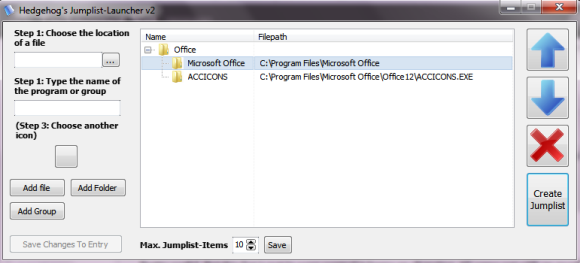 Overall 7 Stack is an excellent program you can use to create custom jump list in Windows 7 and Quick Launch in Windows Xp and Vista.  Download and Read more about 7 stack here.