We have been using the 3 buttons on every Window, while working on our Windows system. The three buttons are minimized, restore, and close button for the window. How about couple of more buttons adjacent to these three? Here is an awesome application, which can enhance your working experience with windows by providing an additional set of buttons; these buttons can really improve your productivity by saving on mouse clicks.
Once you download and install it, you can see the new buttons on the title bar (adjacent to traditional minimize, restore and close window buttons) of every Window you open. These new added button are for operations like, minimize the window to tray, roll he window up and unroll, always on top, push to background, etc. Take mouse pointer over these buttons to know the operation of the button.

You can even customize these buttons, for color, arrangement of buttons, and color as well, using the 'Options'. You can reach to options screen via the tray icon for Extra Buttons. Also you can set shortcuts for these buttons using the button settings on the same screen, as shown below.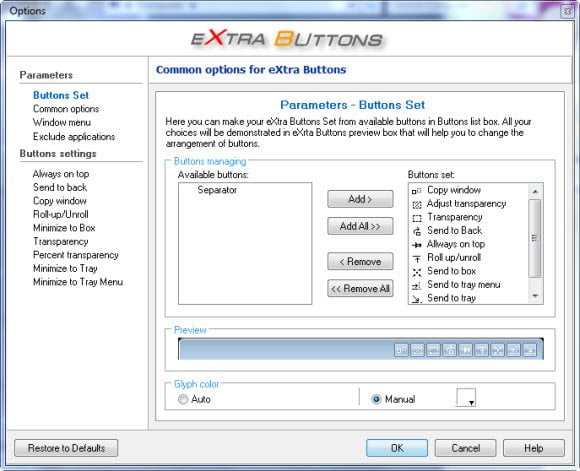 By default these buttons appear on all the application windows as well, if you prefer not to have these buttons on specific application windows, you simply can do it using the 'Exclude applications' option. Like I didn't want these buttons on the Yahoo Messenger, I added it to the exclude application option.
Overall Extra Button seems to be an awesome application, which makes it damn simple for the user to manage multiple open windows, and get rid of the messy desktop so as to improve his/her productivity.
However there is a small issues which I faced while using this application on Windows 7, I wasn't able to make change in any settings via the options. Here is the solution –
Install the setup by right-clicking on it, using the 'Run as Administrator' option.
Once the program is installed, make the program exe to always run as administrator (right click the program exe, select Properties, go to the Compatibility tab, check the 'Run as Administrator')
Extra Buttons work pretty well on both 32-bit and 64-bit systems. So go ahead and enjoy these Extra Buttons on your desktop, do tell us if you feel this is really going to enhance your productivity. | Download Extra Buttons