Desktop Activity Recorder is a free application to record the desktop activities, or you can say it's simply a tool to create screencasts on your Windows desktop. There are several options available for recording the screen both, online as well as offline tools. Desktop Activity Recorder is a good choice for creating screencasts, as it has a damn simple interface, and producing a video too becomes a simple as well as non-time-consuming job.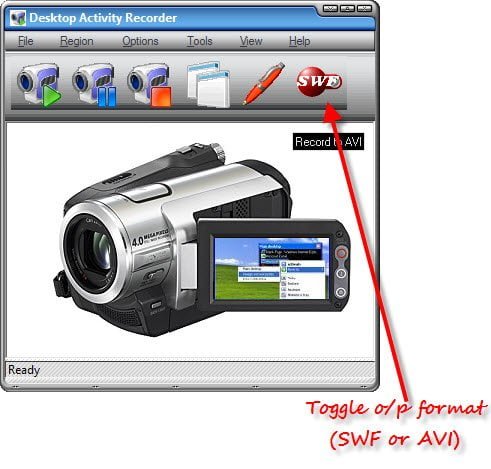 As said earlier as well, first three buttons, Play for recording, Pause, and Stop the recording, fourth button is for toggling the interface to compact mode, later the Annotations, and finally to decide the o/p format, either choose AVI or the SWF format.
Here are the features (as given on the product page) –
Record a single window or any region of the screen.
Record and replay movies of your screen.
Export movie to AVI or SWF file.
Record sound through microphone.
Screen recorder is quick, simple and easy to use.
Enhance with sound, text and images.
The region of the screen to be recorded could be selected using the 'Region' tab, either go for fullscreen mode. You can also record the voice along with the screen using your microphone.
No doubt Desktop Activity Recorder is a great screencasting tool but isn't the perfect option for recording, also it probably needs some re-work, at times it stops responding and needs a restart, however as long as you just want to show something to support your verdict, it works great.