TOGAF is an enterprise architecture framework that includes framework, templates, methods, explanations, and definitions for enterprise architects. TOGAF is the most important Enterprise Architecture Framework these days. It was published in 1995 by The Open Group for the first time and has regularly been updated since then.
TOGAF® is the acronym for The Open Group Architecture Framework.
Major components of TOGAF®:-
An Architectural Development Method (ADM)
ADM Guidelines and Techniques
Architecture Content Framework
Reference Models
Enterprise Continuum
Architecture Capability Framework
Becoming TOGAF certified helps in developing a broad knowledge in the area of Enterprise Architecture, as the TOGAF Standard covers a vast range of topics. Generally, your work will get enriched in knowing and learning the content and will help you to align with most Enterprise Architects that you will meet.
The beauty of these frameworks is its all-inclusive nature. They talk a lot about views, viewpoints, and ways to simplify reality to make it easier to understand – from different perspectives. They also talk about the generic approach from identifying and distinguishing what you have today, where you want to be, what is the gap, how to get there, and how to achieve and keep that. They also talk about libraries for different documents, about useful templates, and also about stakeholders and parties that have relevance for enterprise architecture.
The current main release of TOGAF is  It was released in 2011. As the content has not changed a lot between the minor releases 9.1 and 9.2, the current version of TOGAF is mainly based on content that is at least a decade old. Along with it, there is no need for recertification between minor releases.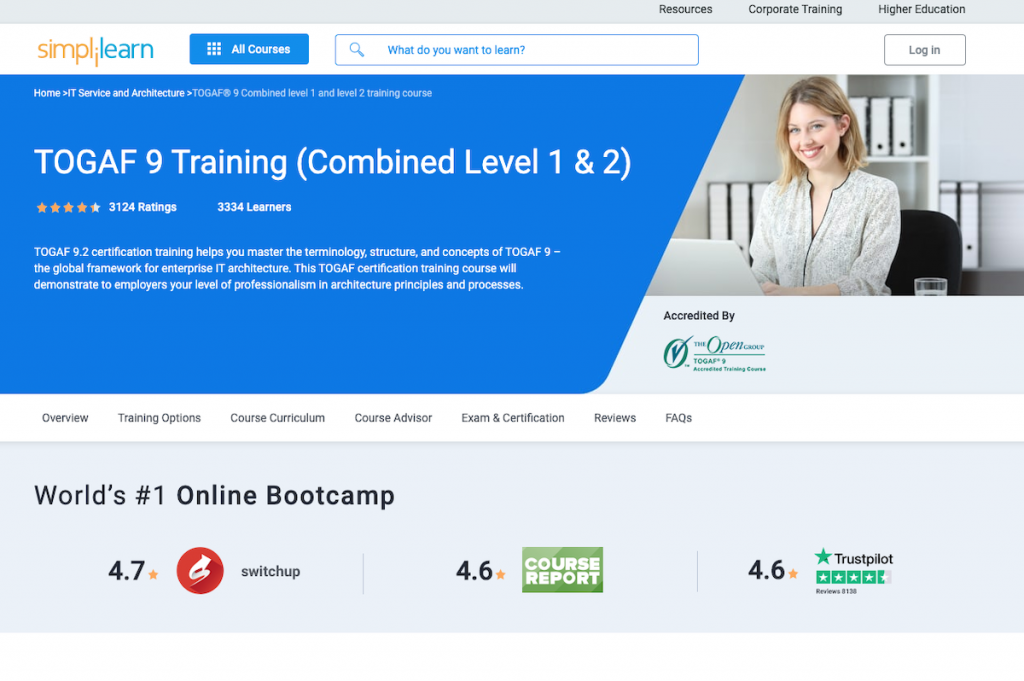 The TOGAF certification has two levels; they are "Level 1 Foundation" and  "Level 2 Certified". There is an option to do both levels in one combined exam, and most people do this as it is one of the best options available.
Let's see the pattern of the exam one needs to clear to get TOGAF certification.
TOGAF Foundation Level
TOGAF Foundation Level exam has 40 Multiple choice questions (MCQ). The total time given for this exam is 1 hour. For passing this exam, you need to answer 22 questions correctly, out of 40 questions (as the pass percentage is 55%)
A little about this exam, each of these 40 questions has only one correct answer. Here there isn't any question with more than one correct answer. All the questions are straightforward and taken out from the TOGAF Specification. So, if you have read the Togaf Certification specification well enough, It will be easier for you in answering any of those 40 questions.
TOGAF Certified Level
TOGAF Certified Level exam has 8 Questions with some complex scenarios. The total time for this exam is 1 hour and 30 minutes, which can be said 90 minutes. This is an Open book exam, unlike the closed book exam of the TOGAF Foundation level. The TOGAF Specification is built into the exam software itself, so it is possible to refer to it during the exam. To pass this exam, one needs 60% — so, that means you need 24 marks to pass.
These are also multiple-choice questions (MCQ). However, unlike the Foundation exam, this has 3 correct answers and one incorrect answer. The Best Correct answer is given 5 marks, the second best is given 3 marks, the third best is given 1 mark, and the wrong answer is given zero.
In the end, I would like to conclude by reminding that the test is a difficult one, but giving enough time to prepare and with consistent daily efforts, the certification can be achieved. Once cleared, the certification will give you an edge that no other programming certification can give you.