Have you ever clicked some link when the content which popped in front of you brought an embarrassment to you, because it contained something which was explicit, and the sender didn't attach a NSFW tag to it?
Those who don't know what is NSFW, it stands for Not Safe For Work, an email header which works as an indication to recipient that the link contained might not be viewable publically, or in presence of anyone else, Read More about NSFW.
So here is NSFW, a service which shortens the URL link, and at the same time, makes it safe, by embedding a warning in it, i.e. a link which has been generated by NSFW for some link (which has explicit content in it), when clicked, warns the user and tells him/her that this might be a NSFW, so the user can choose to continue opening the link or can postpone to open it later.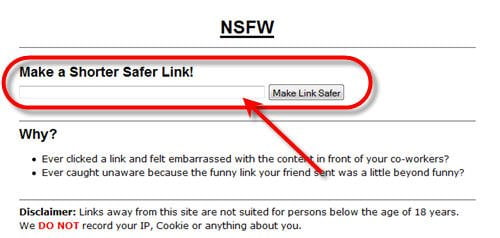 Working with NSFW to get the short and safe link, simply type in the URL and hit the 'Make Link Safer' button to get the new shorter and safe URL link.
NSFW is a nice service, no account creation, or login like requirements, simply access in browser, and create a safe URL. Thanks to Brajeshwar and Anirudh, for giving us this service.  Try NSFW