Dark Room is a small, Notepad like app, which aims at providing distraction free, writing environment. Once you install it, it by default opens in full-screen mode, and then you can enjoy writing on a black background with the text color as fluorescent green (by default, you can change both the background color and text color to whatever you like).
Have a look at the snapshot below.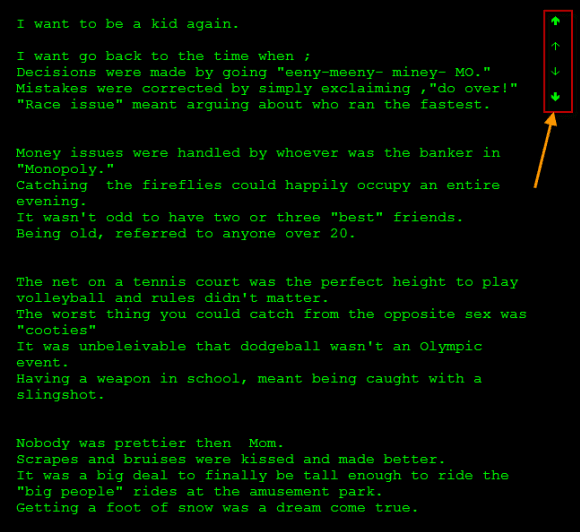 There are these arrow for up, down, page up and page down, for other controls, simply hit 'Esc' to leave the full screen mode and enter the window mode, later you can easily get all the options, or here is the list of Keyboard Shortcuts  –
File Menu
Clear Document: Ctrl+N
Open Document: Ctrl+O
Save Document: Ctrl+S
Quit: Ctrl+Q
Edit Menu
Undo: Ctrl+Z
Redo: Ctrl+Y
Cut: Ctrl+X
Copy: Ctrl+C
Paste: Ctrl+V
Select All: Ctrl+A
Find: Ctrl+F
Find Next: F3
Preferences: Ctrl+,
View Menu
Statistics: Ctrl+/
Toggle Fullscreen: F11 or Esc
Dark Room actually is the clone of WriteRoom, which is an OS X (tiger) exclusive application.
I am not sure if it actually helps in focusing on writing or not, but one thing I am sure about is, using Dark Room is fun, and allows you to experience a whole new environment while writing. Give it a shot, and share with us what you feel via comments.