Many a time when you just need to access Contact Book in your Outlook, you just hate to launch it because of many reasons like Starting Time, Waiting time because it automatically starts syncing or just too lazy to do so much of the work.
NirSoft has developed software which allows you to access your Outlook Address book without even launching it. This application just uses the API to connect with your Outlook Profile and gives you access to all the email address stored in it. This is very similar to the application which used to list the Outlook Attachment file without launching Outlook.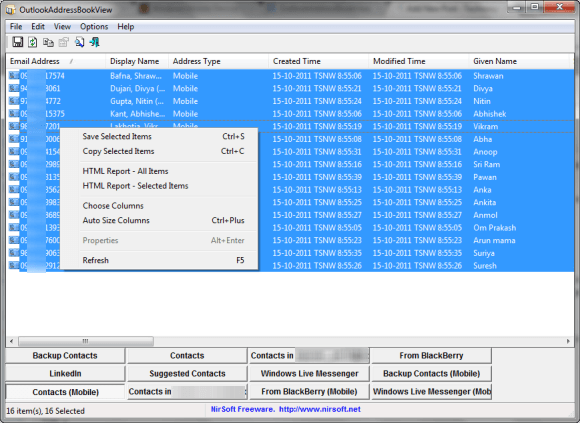 Features :
For every contact, you can view Email Address, Display name, Phone Number etc.
All the contacts can be exported out in the form of Tab Separated format, Comma limited, HTML or XML format. You can open the Tab and Comma files in excel for further editing.
If your profile is connected to Microsoft Exchange Sever, you will get different types of Address book, depending on your access type.
Profiles which have PST file created i.e. Local Account you might have only Contacts or if you have created more, you will get to see more.
You can just switch tabs to access different address book.
The best part of this viewer is that it does not need installation. Just run it and it will automatically load your default profile and give you list of address book in tabbed format.
This tool is not an alternative to access when your Outlook gets corrupt. I am not sure if it will work in that case or not.
Download
This application supports both 32 & 64 bit but for outlook 2010 only 64 Bit is supported. Download it from here