WinFlip is a small application for Windows XP, which allows you to access all the running applications and windows which you have open, in 3D and also gives you ease of use while switching between these windows.
By default, the key combination of 'Windows + Tab', allows you to see the opened programs/windows in 3D, however, right-clicking the tray icon of WinFlip and going to 'Options', and then under the 'Keyboard', you can change this combination to 'Alt + Tab' as well.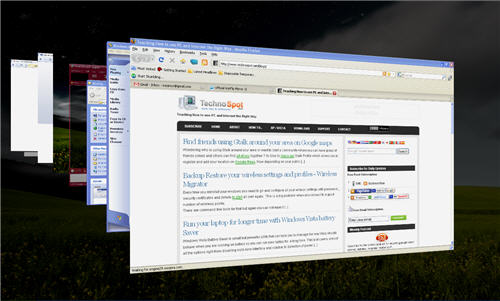 Below the 'Keyboard' in 'Options' you can see the 'Mouse', which allows you to set the 3D view and switch for mouse gestures or left click on any/all of the screen edges.
Settings in Winflip
Below this, you will find some more options as 'Other'. Here you can choose to run WinFlip at the startup, include desktop as a window (I liked this option a lot, it completely extinguishes, the need for the 'Show Desktop' button in quick launch),
Apart from this some other options like 'Capture image when a new window appears' and 'Use system memory instead of video memory' can also be found here, which probably don't make much sense, for normal users.
'Exclusion settings' are there to permanently remove some windows from the appearance in 3D. Here is a video, to check out the functionality of WinFlip.
All that you have to do is download a small zip file of 599kb download, simply unzip it anywhere you want to get an executable file, WinFlip, run this file, it will be in your tray now. Download WinFlip Hope you liked WinFlip.!!