Acer just announced to bring a cloud service, Acer Always Connect @ ces 2012, for multimedia and data files making it available over the cloud to be accessed from any where. What is interesting is that Acer Cloud installed on a PC can wake it up and if it is connected to WIFI, you can play your movies stored on your computer to your phone. For PC's to work they should be in Stand by or Hibernation.
PicStream / Acer Cloud Docs : It also can transfer your photos back to your PC where it stays for ever but like iCloud, for mobiles and other portable devices, they will be deleted after 30 days.  This is not really something new but looks like Acer wants to get this as feature on their devices.
clear.fi Media : This is live streaming of your media files like movies, videos directly from your computer to your phone and any tablet.
Like Dropbox all your files are store locally also but like iCloud the files i.e. Images and Docs have a life of 30 Days. What is interesting is they said this will be coming to Android and Windows Based devices so probably even Windows Phone might get this too.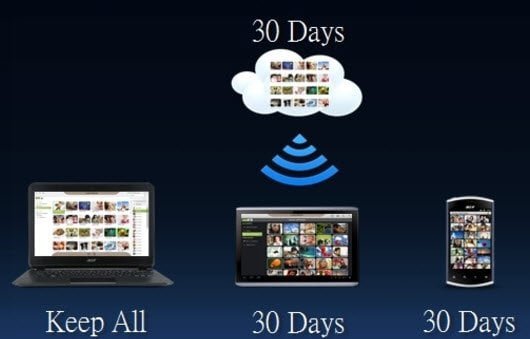 According to Acer this service will be available in America, Europe, Asia and China and will come  bundled on all Acer consumer PCs starting Q2 2012  Though not mentioned but I am speculating that there might be a paid service that might be introduced later.