When you have a lot of tabs open, it becomes difficult to keep track of what is where. As the number of tabs increases, the length of the displayed text decreases. Thats where need a vertical sidebar or dock in Firefox or Chrome that can help us find tabs, and also make sense out of it.
How to add a vertical sidebar or dock to Firefox & Chrome
Sidebar Tabs for Firefox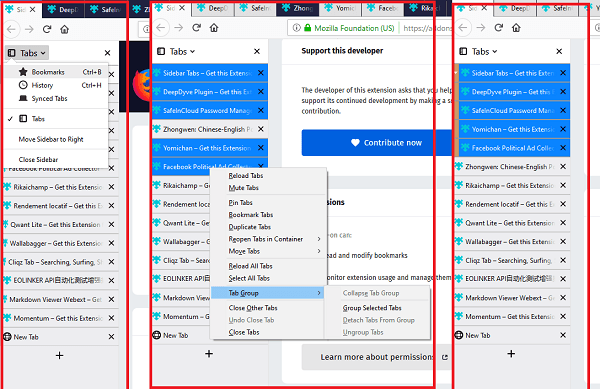 Sidebar Tabs lets you access all the tabs with a simple click. It adds Tabs section to the Sidebar feature in Firefox.
Quick access to Tabs, History, Synced Tabs, and Favorites.
Get all the context menu available for tabs.
Group tabs and collapse / expand them.
To create Tab Group
Select tabs by Shift + left click or Ctrl + left click on each tab.
Drag one of the selected tabs with Shift + left click and drop it on the tab you want to group.
You can also group tabs by selecting Tab Group from the context menu and selecting Group Selected Tabs
Supports colour-coded Tab groups.
Note: If you want to check how long a tab has been opened, try this.
Download from here.
Vertical Tabs & Bookmarks for Chrome
While the extension doesn't add a sidebar, but it gives you a vertical bar with Tabs, Bookmarks, and History in the form of tabbed vertical window. It comes with a search box using which you can search within the tabs, bookmarks and history. Its an incredibly powerful feature if you always find it tough looking for a particular page.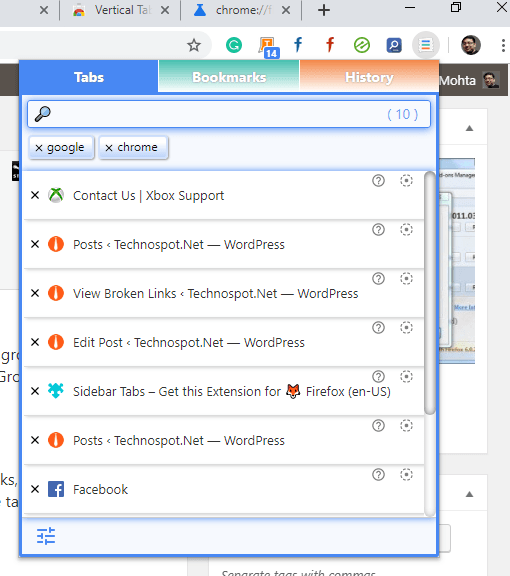 Download from here
We hope both the extensions allow you to access vertical sidebar tabs in Firefox and Chrome. If you use an extension which is better than what we have recommended, please let us know in the comments, and we will add it to our list here.