Many a times you need administrator privileged enabled command prompt to be opened at the folder you like. The normal way of doing it is run the command prompt as administrator ( Rick click command prompt ) and then navigate to the directory.
This takes 3-4 steps to achieve it and not so convenient also. However you can add a permanent Open Here command prompt context menu ( with Administrator privileges ) with this small registry hack.
Windows Registry Editor Version 5.00

[HKEY_CLASSES_ROOTDirectoryshellrunas]
@="Open Command Window Here (Administrator)"

[HKEY_CLASSES_ROOTDirectoryshellrunascommand]
@="cmd.exe /s /k pushd "%V""
Save this as .reg file in a notepad file with any name you want. Then double click the file you just saved and it will merge the netry to your registry hive. Once done, right click any folder and you would see the option to open command prompt with administrator rights there.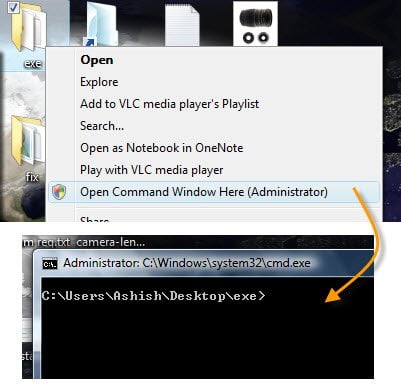 These steps are hundred percent safe and you need not to worry about it. I am not making this file availble, as reg file, for download to be on the safer side.