Do you love to take photos? Are you a fashion diva? Adding a glamor effect to your photos is a fantastic way to make them more beautiful. Besides, glamor is also a particular type of photography focusing on the model's appearance. This article has compiled a list of tools that can help you add glamor effects to images.
What is Glamor Effect?
With glamor effects, concealing skin issues or defects and decreasing wrinkles and fine lines becomes possible. It is a great way to make the model look sensuous and charming. To enhance the beauty of your images, you can use various apps that help in adding glamor effects to photos.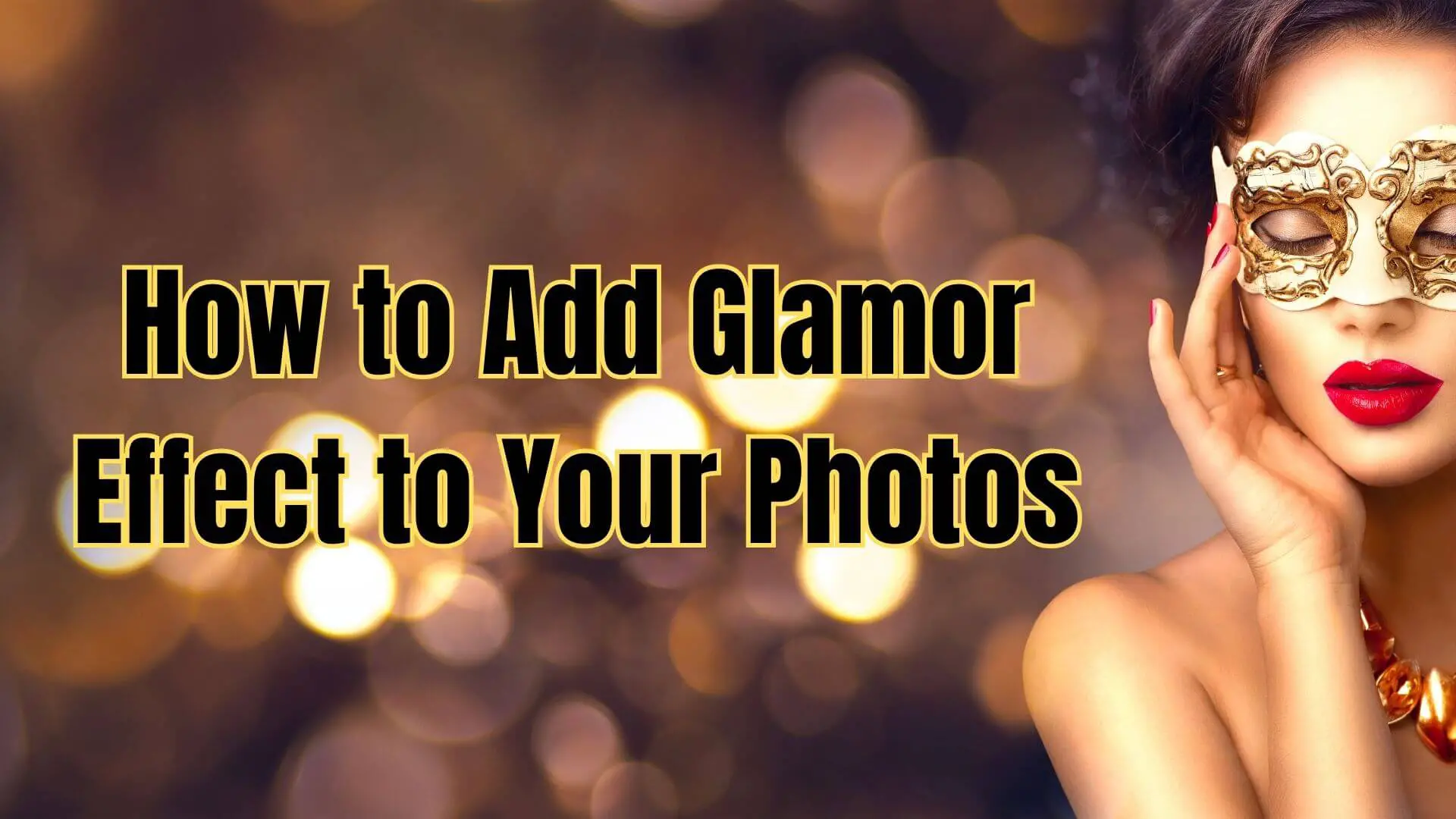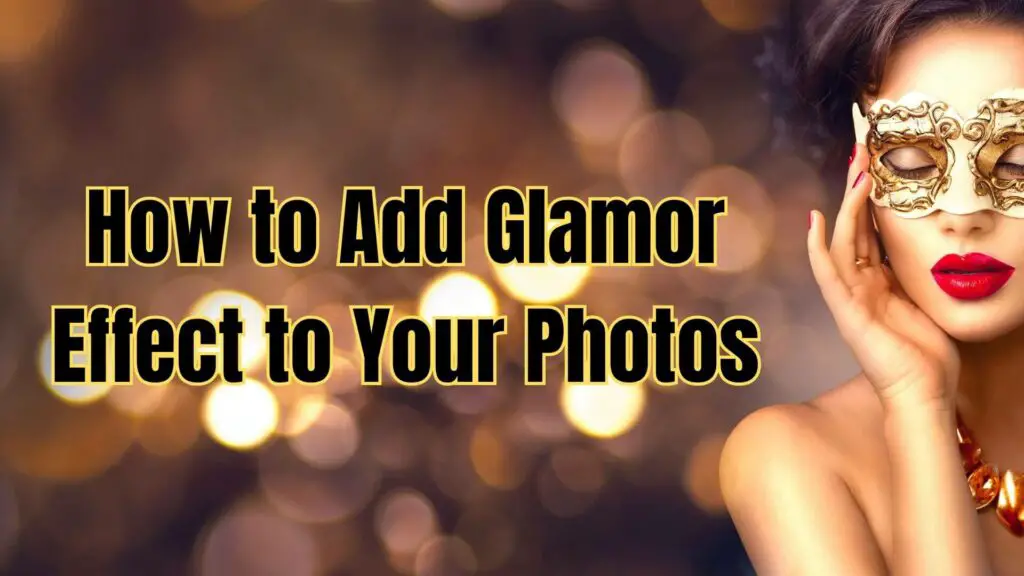 How to Add Glamor Effect to Your Photos?
We have used many tools extensively that help add glamor effect to the photos, and after eliminating a few of these, we concluded that the tools below are some of the best in the industry.
Photofunia
Picsart
Fotor
Pixelied
PhotoDiva
Excited to know what the features are and how they can make you more glamourized. Let's find out below.
1] Photofunia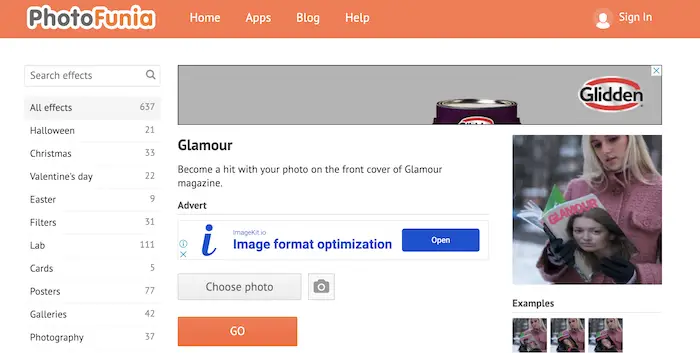 One of the best apps for adding glamor effects to images is Photofunia. It is user-friendly software that aids in making changes to photos, making them glamorous. The wide range of effects available makes the app even more impressive. You can choose Concrete Jungle, At the Gallery, Smoke Flare, Surfing Board, and more.
One of the most exciting aspects we loved about Photofunia is the wide range of effects. It is also easy to upload images and get changes done.
2] Picsart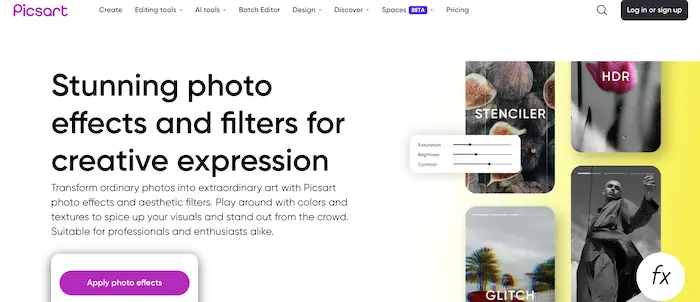 Are you eager to turn images into stunning photos? Look no further! Picsart has various tools to help you add different photo effects and filters. With this app, you a transform ordinary images into beautiful art. It is also an excellent way to experiment with textures and colors.
Picsart takes great pride in the availability of 100+ AI-powered effects and filters. Just use these effects and give your visuals a new level.
Apart from the different filters available, we loved the user-friendly approach. It is easy to upload images, apply effects, customize, and download them.
3] Fotor

If you are looking for a reliable app that offers seamless glamor effects to photos, you can choose Fotor. The app contains a wide range of photo editing tools that can be used to make changes to images. To add glamor effects, you can opt for the Photo Retouching tool.
The photo retouch editor from Fotor offers interesting tools like wrinkle remover, teeth whitening, blemish remover, red eyes remover, etc. With these tools, you can beautify your photos even more. All you have to do is upload images and use the tools.
Fotor comes with AI-powered tools that make converting images to glam shots easy. We loved how easy it was to use these tools and create perfect pictures—besides, downloading the images once modified is easy and hassle-free.
4] Pixelied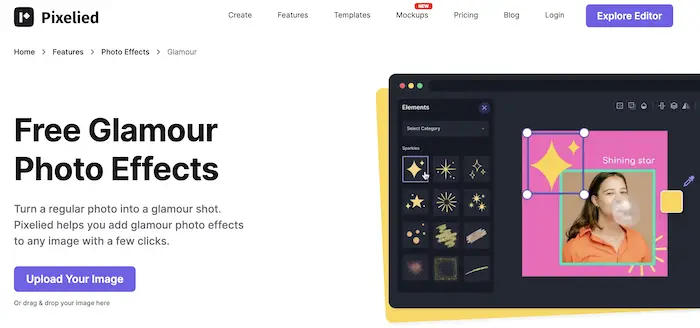 Another exceptional app to add glamor effects to images is Pixelied. If you are eager to convert an ordinary photo to a glam shot, choosing Pixelied is a great idea. You can do so with a few clicks.
With Pixelied, you don't have to download any app. You can use it on your browser and add the effects. The first step involves uploading the photo. You need to ensure the image is in PNG or JPG format. After that, you need to click on the Elements button. Here, you will gain access to numerous glamor elements.
In the third step, you can customize your images even more. For that, you need to choose the Image Filters & Effects button. After that, download the end product in whatever format you want. The process is easy and doesn't take much time.
5] PhotoDiva

Are you tired of ruining beautiful shots? No more! PhotoDiva comes to the rescue with its user-friendly interface and stunning glam effects. It is compatible with Windows 11, 10, 8, 7, and iOS.
Worried about pale skin or ugly pimples spoiling pictures? With PhotoDiva, you can turn images into glamor shots with a click. The AI-powered portrait editor is efficient and reliable. It is straightforward to use, making it a favorite.
We loved how easy it was to use PhotoDiva to change the image to a glam one. Using Auto Retouch to remove imperfections and Glamorous Portrait to choose beautifying effects was easy. Moreover, you can also use the Custom Settings tab to make more changes. The wide range of tools available makes it easy to change your image.
Conclusion
These are some of the best tools that you can use to add glamour effects to your photos. From retouching to complex effects, these tools can do it very quickly. Our personal favorite is Fotor and PhotoDiva.