There are many times a normal user wants to add link or image or wants to express better but he or she is not able to see because Most of the blog comment section are pretty much less interactive and they don't get except a flat comment box where he or she can just type.
Now considering normal users who don't have any idea of HTML or tags want to add an image, but he can do nothing except leaving a link . Why not give them more options which can allow them to interact with comment box like they do in a word document , by adding a small editor with some basic stuff.
NiceEdit is an online project which is working to make all TextArea like comment box more interactive by adding a Micro Inline WYSIWYG editor. It's a JavaScript that you can add to your page and connect it with your comment box. And yes its free and not at all heavy to the servers
Small file size <35KB Total, <10KB Compressed! Only 2 files (js + icons) required for operation.
Flexible Configuration replace textareas or divs Multiple editors can optionally use single controls
Save content via AJAX or HTTP Post and works with IE, Firefox
And This is what It does to a comment box in WordPress blog.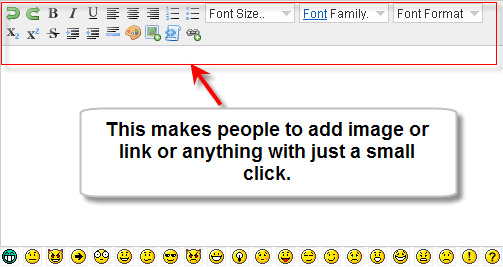 Don't you think that's a lot better. Making work of a commentator very easy and they feel like doing it.!!
Integrating with your WordPress blog.
Add the script to your header. Get the script from the home page. of the project.
You are done. Confirm by opening any post or page where comments are enabled.
How it works?
It looks for a "textarea" on any page and loads the editor controls on it and best is it fits to the size.
Some work for you ? Find how I have integrated
Now if you take a look at my comment box, I have done something different. The editor comes only on my comment box and not any other pages like Contacts.
I have more controls than what normal script will give you.
Grab it from NiceEdit