Windows 7 libraries is one of the best features of Windows 7 which helps you in organizing lot of data in one place, this definitely helps you when you deal with lot of files and folders everyday. Though you can add any folder here but Windows 7 restricts adding any folder to Libraries which is not indexed and if you have a network folder which is not indexed will not be included. You would get an error message saying "This network location cannot be added as it is not indexed"
Zorn Software has released a Library Tool which helps a user to use libraries easily.  This application lets you ( major features ) :
Add network (UNC or mapped drive) and any other un-indexed folders to libraries. This is possible using the Microsoft API CodePack  where on Code Level You can add any folder to this library.
Many a times you feel like removing a library and then get it back later or may be you don't want a  folder now but later you feel like why you dropped it. Win7 Library tool has backup configuration which lets you restore files and folders in a click. This is useful when do a reinstall or move to another computer.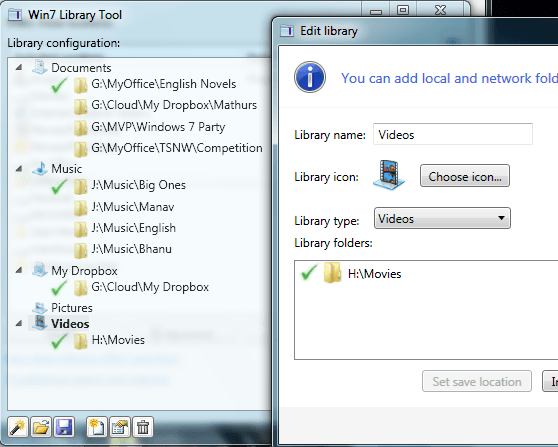 You can download the application from here. [via Download Squad]
How to add a network folder to Windows 7 Libraries without using this tool ?
The basic criteria for adding any folder here is to have it indexed with the system. Now you cannot just go and index any file but for Network folder you can use the Idea of Offline Files. Windows 7 indexes Offline Files automatically. So once you have it done you can easily add the folder to any library you want.