Windows RT has another restriction apart from inability to run the desktop apps, Flash does not work for every website. Microsoft has this security inbuilt which only allows set of white listed websites to display flash and rest of them are cornered. Now since RT users don't have the desktop version of IE App, the only choice is to add websites to this list which is only under the control of Microsoft via Windows Update.
Good news is that DroidKid has built a script which allows to add any website to this white list by following set of instruction which appears over the command line.
The tool allows you to :
Disable the list from being updated. Which makes sure that your website does not get truncated.
Enable the list for the update if you changed your mind.
Add a website to your white-list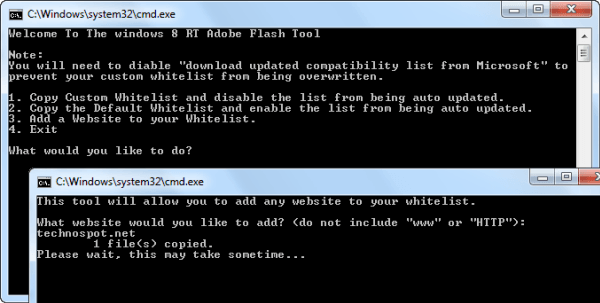 Remember when you add a new website, the list is refreshed with your website added it to . This means all your browser data will be cleaned up i.e. History, Favourites etc.
This is an excellent tool for users who would love to have flash on their favourite websites but remember don't add every other websites. Microsoft disabled flash because of the flaws it has which results in battery drain. Windows RT tablets was built keeping mind to run longer and the flash was on, I am sure it would not have lasted the same way for everybody. Via Newowin Forums