Here is an AIR based image resizing tool, named as Shrink O'Matic, the UI of this tool is damn simple, it can resize images for height, width, or both, or you can resize on the basis of ratio, say you want to resize an image simply to 50%.
It has option so that you can produce the output in a particular folder or you can choose to keep the output images in same folder (i.e. output and source folder are same), however keeping the source and output folder needs some attention in terms that if you don't choose to change the name of files, you might end up losing the original files by replacing them with the original ones.
Have a look at the UI of Shrink O'Matic –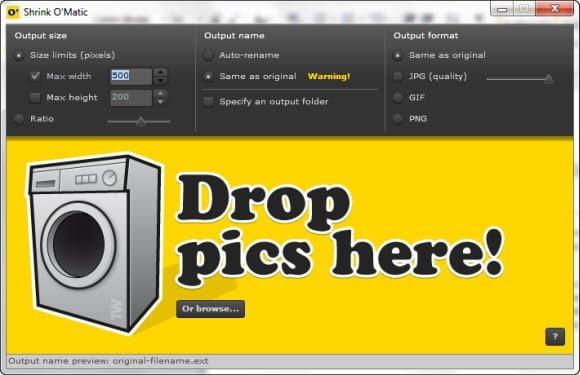 Simply specify the Output Size, Output name, and Output format, once done with these settings as per desired output, simply drag and drop the images on the front loading washing machine pic on the app, and relax, it will soon get the job done for you.
Being and AIR based app, it can be used with any OS, going through the homepage gives an impression of some issues while using on MAC, but that too is resolved now.
So, go ahead and grab it now, and enjoy seamless resizing of images.
If you are looking for some more resizing tools, you can try the range of resizing tools featured here by us. Also if you want to remotely resize your images, you can go through this post.