Batch File Renamer is an advanced windows software which allows you to rename files and folders which suits even very complex needs. Since it works with all the types of files you now need not to find explicitly for images ( which we talked about it here ).  It works on Windows 7, XP and Vista Both.
Another addon you get is , you can just right click a folder and say Batch Rename i.e the menu is integrated with windows which lets you select any folder and do the job. You can also rename files with invalid file name characters for which the characters can be setup in the configuration file.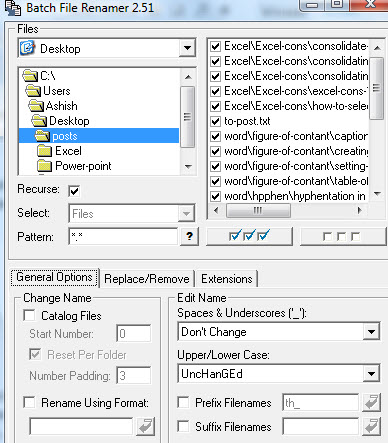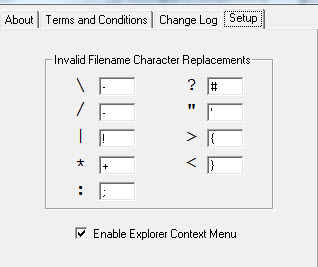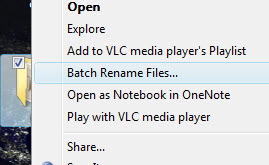 Here is the complete set of features :
Batch renames files or folders in a selected directory with recursive action.
File names can be completely changed (incremental number, rename with meta variables), or edited (e.g. change case, prefixed, remove spaces etc.).
It inserts Meta variables like file size, various dates/times and mp3 information (ID3v1 tags, ID3v2 tags and mp3 header information).
Remove spaces, Replace spaces with underscore, Uppercase/lowercase file name, Prefix file name.
Suffix file name, Catalog files (incremental number), Replace/remove strings, insert dates based on file creation
File modification, file access and the current day, insert image width/height, change extensions, upper/lowercase extensions, insert file size in bytes, KB, MB, GB or closest unit and insert mp3 and header information (bitrate, duration etc).