A firewall is like a security guard in any company. It determines if any person or material is allowed to connect to the outside world, or any connection from outside can enter Computer.  It follows some rules i.e., Inbound and Outbound rules, before anything goes out or comes in. Now, what happens when a stranger comes in without an appointment? The security guard calls the help desk to ask. The same thing happens with Windows Firewall here. It's monitoring system pop up a window when it doesn't any rule for some unknown programs. In this post, I will share a complete guide to configure Windows 10 Firewall.
How to Configure Windows 10 Firewall
Windows Firewall comes with some predefined rules, so you don't get bothered whenever a program connects to the internet. So it's not surprising people don't see it most of the time. However, I am sure you must have seen one or two messages at least where Windows warns that a program is requesting for making a connection. That's Firewall giving you a warning. To configure Windows Firewall  there are two ways i.e., Basic Mode and Advanced Mode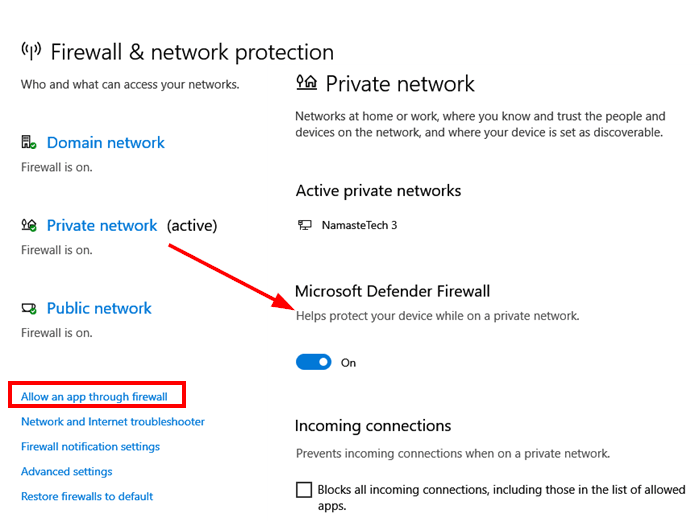 Basic Mode of Managing Firewall
Basic Mode involves enabling the Firewall, Adding and Removing programs to firewall rules quickly. To open the program,  Open Windows Search by pressing WIN + S, and then type Windows Security. Then switch to the Firewall and Protection section. Here you get direct options to turn Firewall on or off, and the second option is to allow a program through windows firewall rule. If you wish to add any application which you know is safe, this is the place to do it.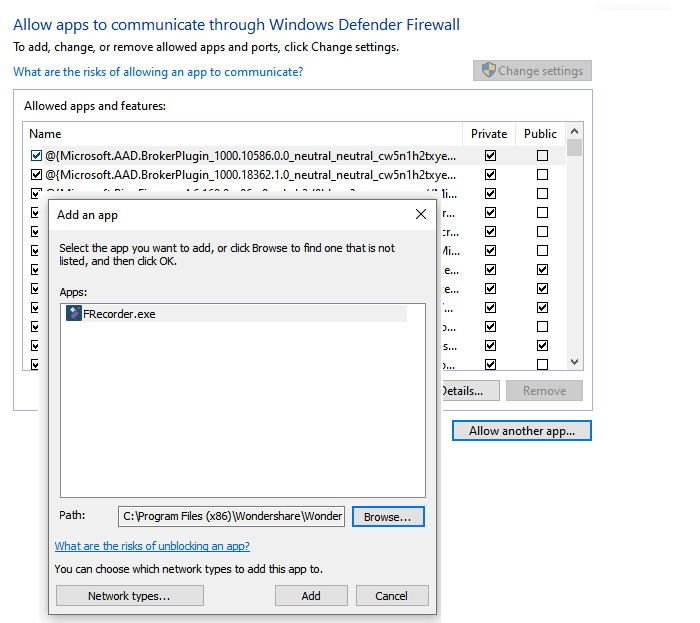 How to Add a Program and Port to Windows Firewall
Let us add a program to a firewall rule, so it is allowed to pass through.
Click on Allow an app through Firewall
It will reveal a list of apps that are allowed to communicate through Windows Defender Firewall
Click on Change Settings, and it will enable all the checkboxes which will allow you to control their connection
Click on Allow another app button, and then browse to select the EXE or executable file.
It is also possible that the app is listed which makes it easy to manage.
You can check on the box against the program to enable the Firewall for Public and Private networks.
Firewall Notifications: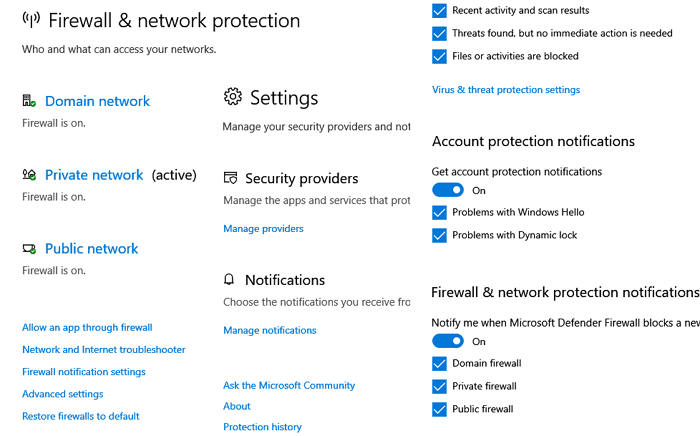 In the Windows Security Firewall section, click on Firewall notification settings to manage them. You must keep a check on Notify me when a firewall blocks any program. It helped you when you installed a new program which windows firewall doesn't know about it. If you had this notification on, you could create the rules to allow the program to pass through the Windows Firewall at the moment program is blocked.
Click on Firewall notification settings > Manage Notifications
Toggle on the option which says, "Notify me when Microsoft Defender Firewall Blocks a new app."
Check the Domain, Private and Public domain
Advanced Mode of Managing Windows Firewall
In this section will learn how to create Inbound and Outbound rules for Windows Firewall. It is similar to basic mode, but you get different options and with more complexity.
Type WF.msc in your run dialog box. It opens up the Windows Firewall with Advanced Security program, which allows you to create inbound rules, outbound rules, Connection security rules, and Monitoring.
Inbound rules determine which applications are allowed to bring the data in; Outbound is just the opposite of that.
Connection Security Rules are not exactly firewalls, but it involves authenticating two computers before they begin communications and securing information being sent between two computers.
How to create Inbound and Outbound Rules?
Select on Inbound Icon on left
When you select, you can see all the Inbound rules which are already created.
Now either you can do a right-click or just look at Actions Section on Right.
Select New Rule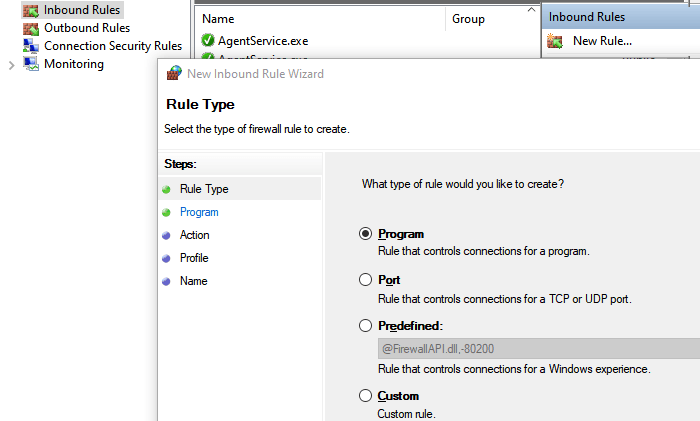 Creating an Inbound or Outbound rule is easy, but we should be careful about it. There are five steps inside it
Rule Type: Is it a program or port ? or Anything custom?
Program: Select if you chose the program. You can select any exe you want to apply the rule on.
Protocols and Ports: Select the UDP or TCP type and the port number
Action: Next is what you want to do precisely when this happens. You want to allow it, Allow only when it is secured, etc.
Profile: This can be given a profile or call it scope, which we saw in the last post also. You can have one rule for Your home network and one for office.
Name: Finally, give a name to it, which is easily identifiable by you.
On Connection Security rules :
Connection security rules make sure the connection is authenticated based on some criteria like domain or though gateway. It is a very advanced type of rule which we generally don't use. However, you get more control because authentication places significant roles here. The authentication supports Kerberos V5, Certificates, or Windows.
Creating Connection security rules is more or less similar to other rules, but they get more specific on domains, types of authentication. Regular users need not worry about it. There is a relevant section called Monitoring. It can be useful if you want to watch what inbound and inbound action is taking place. The only drawback is I cannot change anything from here.
So that's all the essential things in the Firewall Configuration. I hope the post to configure Windows 10 Firewall was easy to understand, and you were able to manage inbound and outbound firewall rules in Windows 10.