Age of Wind is an iPad game which can bring out your Pirate Passion and missing adventure to sea alive. This game starts with a small ship which you take into the sea and fight other ships using your canon and exactly the way ships used to fight in old days. Remember there is modern ship but old big powerful ships with loaded canons.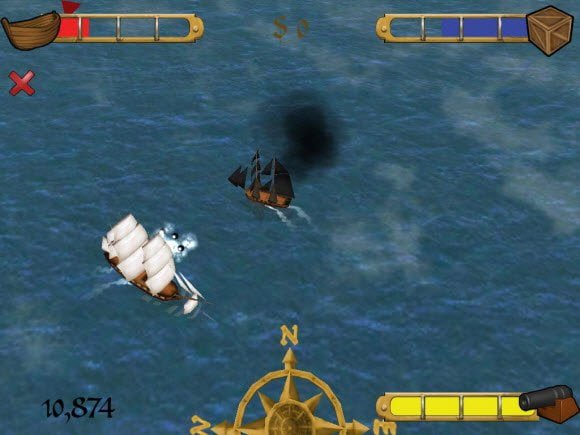 Every ship you fight can give you health and goods. You will need to collect this goods and sell in one of the 20 plus islands on the maps. The money which you get by selling this can be used to repair, enhance your current ship or buy a new one. Below is a video demo of the game :
My Tips for playing the game :
Spend in enhancing your ship power instead of rushing to buy a new one.
Make sure the speed of the ship is good enough as it will help you when you get blow by 3-4 ships together.
I have seen how computer brings in 2-3 ships together to attack you, so make sure you choose your enemy wisely.
The most important part is how you navigate it right. You will have to tilt your iPad left or tight but its tricky.
What I think is missing in this game :
The long view i.e. so you can see far towards the see is not in users control and it changes automatically to war mode when it finds another ship near by. If I had more control on to get longer view on demand I can play this game much better.
Also I cannot find it quick what kind of ships are getting closer to me as I dont have the long view.
The direction on the map is bit confusing. When you switch to map mode, the direction of your ship is not the way you might be sailing. It just shows your location.
The game still does not support multitasking so if you just quit the game by using home screen you loose all the good and are set back to the last island.
Overall an excellent game and I have spent like 24 hours playing it. It costs 0.99 USD via in App Purchase but you can download and play the basic stuff without any advertisement. Download it from here.