Alfa Clock is a nice small application which is a very good option to replace the default Windows clock on your system, rendering a full featured clock with multiple features like calendar, alarm clock, a speaking clock etc.
A download of 1.75 MB setup file will be required to install this application, later you can install and customize this clock as per your taste and requirements.
Here is the main window for the Alfa Clock.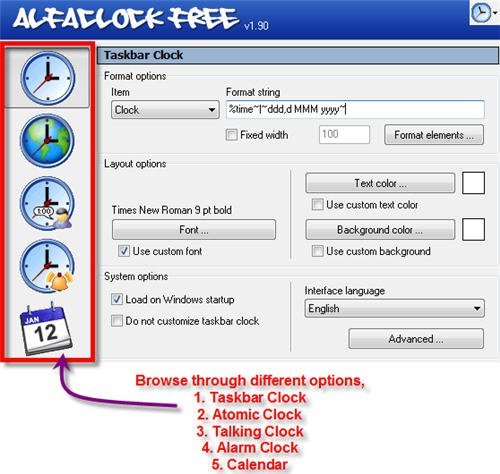 So, you can browse through other components of the Alfa Clock using the left panel highlighted in red. You can choose the appearance and functionality like other settings via these.
Now let us have a walkthrough of each component and see what's there for you.
1. Taskbar Clock
This window helps you to customize the taskbar clock for you, if you don't want, you can keep your default clock in task bar, while using the other features of Alfa Clock.
Fonts and Colors etc. can be chosen for the taskbar clock in this section, another very nice feature in this section is you can customize the taskbar clock's looks fully, i.e. you can decide what components of time (like date, exact time) do you want to see in the taskbar, along with the format, this can be understood well with the snapshot below.
2. Atomic Clock
Using the Atomic Clock option page you can synchronize Alfa Clock via the Internet. Here you will get following options –
Local time Shows the time as reported by your PC.
Exact time Shows the time value as reported by the atomic clock.
Correction Shows how far off your PC is from the time server.
Get Time This button will cause the application to gather a new time from the time server and compare it to your local PC time.
Adjust This button will set your PC clock to match the time server (taking into account your time zone or hour offset, of course)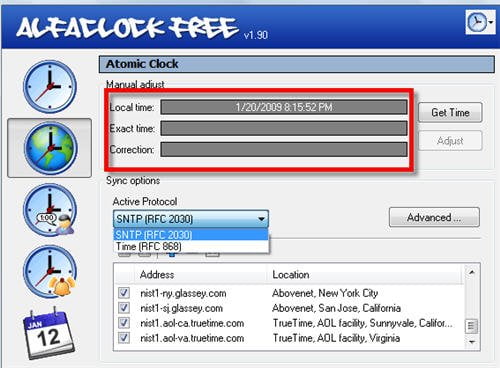 3. Talking Clock
I have felt that if something keeps reminding you about the time, it helps improve your productivity and throughput, and this Alfa Clock is really very good at it, you can make it speak the time for you after a set interval of time starting from 5 to 60 minutes.
You can also set the span of day when you don't want it to speak for it and stay silent, other options allow you to decide how and what it is going to speak.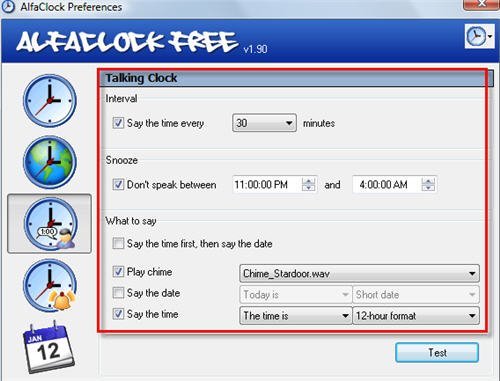 4. Alarm Clock
Alarm clock is simple and easy to use; you can also choose your favorite soundtrack to play and add any text you want to display when the alarm rings.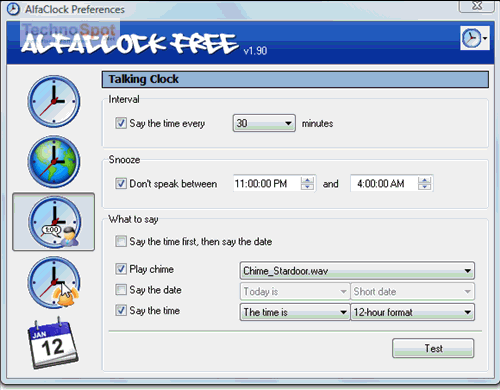 5. Calendar
Calendar doesn't have much functionality; all you can set in this window is colors, fonts etc.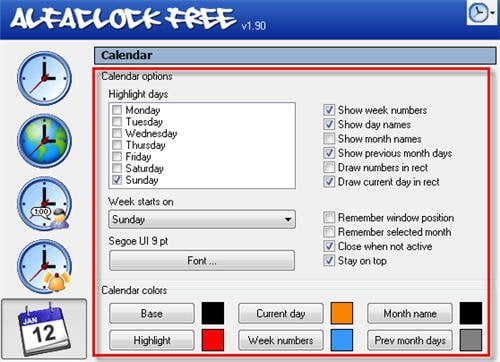 So, if you liked the features of Alfa Clock, give it try and tell us if you liked it, setting alarms is something that can be easily done by schedule task feature in Windows, but having a dedicated application to handle all such needs sounds a nice idea. the download page doesnt specify that it supports Vista, but it actually does. Download Alfa Clock
Related: Find out more featured Alarm Clocks including the internet alarm clocks