Received a newsletter from Amazon today about its first digital device availability in India from their online shop and its none other than — Kindle. Right after their announcement on last week, The list of kindle devices which are listed along with the price are as follows:
Kindle Fire HD — 21,999.00
Kindle Fire HD — 15,999.00
Kindle Paper White 3G — 13,999.00
Kindle Paper white — 10,999.00
Kindle — 5,999.00
This is an excellent opportunity for book readers who always wanted to own kindle but could not get it before because of import hassles. However, it may take time for all the models to get into stock. As of now I only see Kindle's basic version available.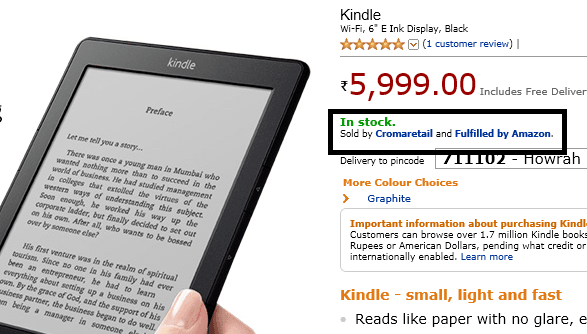 Another thing to notice about it that listing of Kindle shows "Sold by Cromaretail and Fulfilled by Amazon." This clearly means that Amazon is not able to sell it directly but will only be able to sell through third part. If you are wondering why then it's because of the FDI issues which still hasn't settled down till date. Croma Retail is a trusted brand which you see across airports in India.
Along with these devices, Amazon India is also selling e-books for your Kindle Reader which you will be able to download once you signup with the same amazon account with which you bought the books.
Buying e-books:
Here is another catchy thing to notice. Right under the device listing there is an important note which says:
Important information about purchasing Kindle books Customers can browse over 1.7 million Kindle books on Amazon.in. Purchases will be completed on Amazon.com in either Rupees or American Dollars, pending what credit or debit card you use. Please note: your credit card must be internationally enabled.
When I first saw it, I was pretty confused why purchases can also be completed in American Dollars as this would mean that end-user will have to pay for conversion charges as well using their card. Then when I chose to buy an ebook, it clearly says buy from Amazon.com.

Clicking on which took me to Amazon.com where I had a warm welcome "Amazon.com welcomes customers in India to the Kindle Store. Make purchases in Rupees when using a Visa or Mastercard credit card or debit card eligible for international purchases."
That said, Amazon India shows up the pricing in Indian Rupees and even you are charged in Indian Rupees.  Their help page clearly says that if you are using Visa or MasterCard:
When you purchase eligible Kindle items from Amazon.com and you use a Visa or MasterCard denominated in Rupees, we'll show you the total amount of your order in Rupees so you don't have to calculate the cost of your purchase in Rupees. We'll lock in the exchange rate at the time of purchase, and the applicable exchange rate includes all fees and charges for your purchase. Your purchases will be processed in US dollars (USD) if another other payment method such as American Express is used to place your order.
Though its bit confusing but unless somebody buys and share the details, we cannot confirm. But looking at the stament, it seems its all Rupees when using Master or Visa.