I think almost all of us are users of Stumble upon, we all have some level of Stumbleupon  addiction as well, and why not, after all SU deserves that. Well, what I am going to tell here is about an unexpected experience, something which was quite surprising.
I wrote a post somewhere around first week of March, it was Submitted to Stumbleupon by someone on March 20, 2008 and somehow it was submitted under the 'Martial-Arts' tag. I never knew that this post is on Stumble upon until last week (around 3-4 days back), as soon as I came to know about this wrong tag thing, I reported to Stumbleupon using the widget on the page.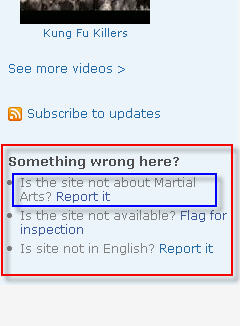 Now, today while going through the stats of our blog, I came to know that I got around 162 hits which were referred by SU, I thought may be they have corrected and filed it in 'online tools' tag or something of that sort, and checked it again, and I found that no changes have been made, its still under 'Martial-Arts' tag.

Imagine, 162 people sent by SU to this page, and they came here thinking that there is something about Martial Arts here, and they found an online dictionary. I am sure this page would have been given several thumbs-down, but was save probably because internet is a very common favorite of almost all the stumblers.
Now, may be, my reporting is in some que or something of that sort, that's why it has not been rectified as yet, so, no big deal, such kind of things happen, but what made me write this post is, I never expected this kind of thing here on Stumbleupon, I mean its so organized, probably one of the best service I have came across during my surfing till date.
This post is not to criticize or to belittle Stumbleupon, It was something surprising, so felt like sharing with you, no hard feelings. What do you have to say on this story, please share.