If you are news freak, and have that habit of reading the newspaper, here is a nice app for your Android device which can help you to preserve this passion. PressReader is an Android app which can deliver you the World's best newspaper on your device. Like The Washington Post, USA Today, Los Angeles Times, Chicago Tribune, International Herald Tribune, Globe and Mail, National Post, Vancouver Sun, Irish Times, Daily Mail, The Herald, The Times of India, The Hindu, etc. Issues delivered by PressReader will give you exactly same feel as the printed edition of the newspaper.
The app PressReader is free to download, and with every download you get 7 trial issues free, these 7 issues can be of a single newspaper or you can try more than one newspaper as well, only restriction is 7 issues.
Here are some of the snapshots of the app –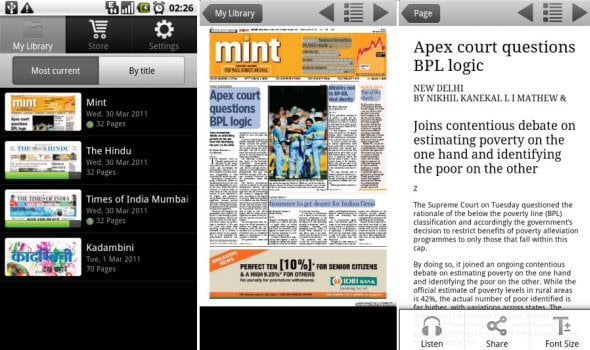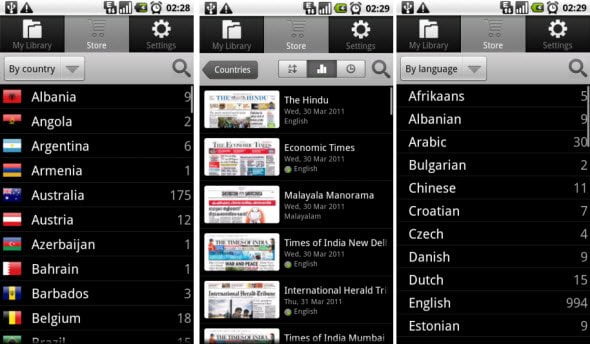 You can Watch a detailed video of PressReader here.
Features of the app –
You get print edition like reading experience.
Tab a section on the page to zoom it for better reading experience.
Swipe to change pages.
Browse through the list of available newspaper on the basis of Country or Language.
Select the auto delivery feature to get the latest version of the newspaper downloaded to your device as soon as available.
Get 7 issues as trial for free, later additional titles can be purchased individually for $0.99 per issue, or downloaded in conjunction with a paid subscription on PressDisplay.com.
You can even listen to publications using on-demand audio.
Share articles by email, Twitter and Facebook
There are some reviews on the app page in the market, which claim the PressReader to be expensive, but when asked to PressReader about it, here is what Gayle Moss, Director of Marketing, NewsPaper Direct have to say –
"PressReader was designed for readers who love newspapers – lots of newspapers.  Newspaper lovers tend to access multiple titles a day and for them, $29.95 is a real bargain.  

However, we understand that there are some readers who are only interested in one title, but still want access to that publication through PressReader because of the exceptional reading experience it offers.  So our product management team is reviewing our pricing models and delivery options for those types of users."
If you ask me, even I don't find the pricing to be high, it's totally worth.
So, go ahead install the app, get the subscription, and let the news freak in you have a great time.
Visit the official PressReader Website to get more details.