Almost in no time Delhi Metro has become the lifeline of the people in Delhi and NCR region. And no doubt, Delhi Metro is one of those things of modern India which have made Indian proud of being a citizen of this country; at least I have felt it this way. Talking about the popularity of Delhi Metro, I am sure it has definitely substantially decreased the fuel consumption in Delhi. It's not that people stopped buying vehicles for their personal use, but yes, people have definitely reduced the distance they travel in their own car or bike, people use their own vehicles just to reach to their nearest Metro Station instead of travelling the whole distance in their car or bike. If you too need to travel in Delhi Metro Trains pretty often, here are some apps which you can install on your Android Device, each app is unique in its own way, here goes the list –
Delhi Metro Navigator
The name which is pretty apt for this app, says it all, this awesome free app for Android has it all. Right from the train route, to fare everything you get with this app, also it allows you to have a look at the parking charges applicable on a Metro Station, etc.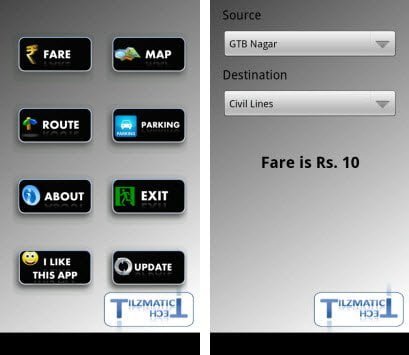 Shown in the snapshot above, first one is the home screen for the app; second one is the Fare Calculator between two stations of Delhi Metro.
In order to see the route between two Delhi Metro stations, select the 'Route' option, then select the stations, and tap on 'Route', it shows you the complete route, and in case you need to change the trains, even that too is told by this app, have a look –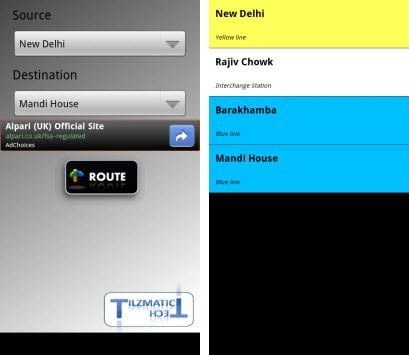 I wanted to know the route from New Delhi Metro Station to Mandi House Metro Station, it clearly shows me that I have to travel in a Yellow Line Metro from New Delhi to Rajiv Chowk, later I need to change the train, and board the Blue Line Metro from Rajiv Chowk to Mandi House.
Also, you can see a complete map of the Delhi Metro Network, and parking availability and parking charges.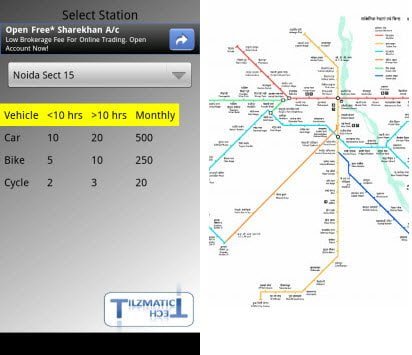 This app once installed can give you really some very useful information, also it doesn't need any internet connection to work, works fully offline.
Download and Install Delhi Metro Navigator from the Android Market
Delhi Metro Map
Just the map of the Delhi Metro network, nothing else, see the full map on your Android Screen, also allows you to Zoom-in and Zoom-out for better viewing.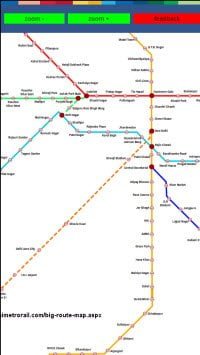 Download and Install Delhi Metro Map from the Android Market
SR Delhi Metro Lite
Another nice app to help you commute easily using the Delhi Metro, actually the full name of this free Android app is Smiling Ride Delhi Metro.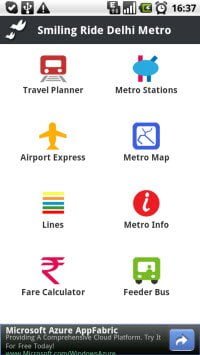 This one is pretty more detailed one, and when you use the travel planner, it first finds both the starting point and the destination on the Map, and later provides you the details, it actually gives you options depending upon your mode of travel, like is it going to be a public transport travel, a drive, walking or cycling. If you choose the public transport, then it shows you the instructions about the travel, as shown below –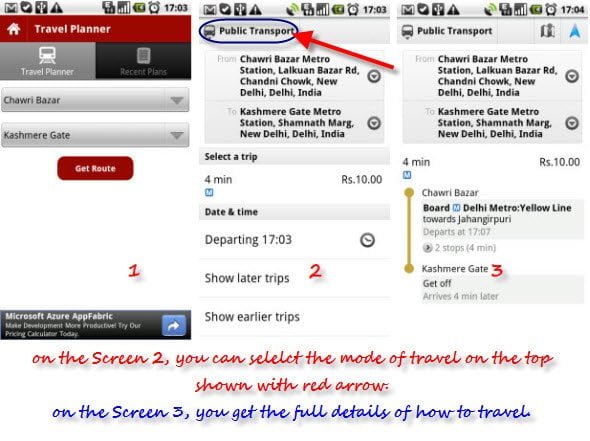 This app too has the full map of Metro Network, Fare Calculator, etc. to make your Metro Travel more convenient. However only thing 'not so great' about this app is requirement of the internet connection, you can't use this app in offline mode.
Download and Install SR Delhi Metro Lite from the Android Market
Delhi Tube
As the app page in Android Market reads –
"Application with augmented reality to facilitate the use of public transport."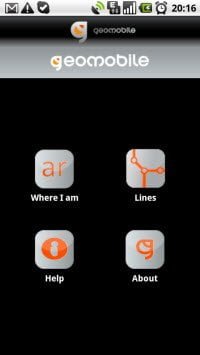 The application starts by locating you first, launch the app, and tap on 'Where I am', this will locate you on Google maps, and later you can select the station you want to reach. It didn't work pretty well for me, probably for the reason that I was trying to test it out sitting somewhere around 400Kms from Delhi. If you try out this app, please be kind to share your experiences with us.
Download and Install Delhi Tube from the Android Market
So, if you are a newbie commuter in Delhi Metro, grab one of these apps now, also if you are on a trip to Delhi for a couple of days, you should consider installing one of these apps for a pleasant experience with the World Class Delhi Metro Service.
If you ask me about my recommendations, I would recommend the Delhi Metro Navigator, for the following reasons –
No internet connection is required, totally offline app.
Damn easy and simple to use.
Has it all, let it be the route, the fare, the parking charges etc.