It is interesting if you are an Indian, or somehow you are interested in India; here are some Android apps which you will love to install on your Android Device. These Android apps for Indian Penal Code, COI, and CPC allow you to improve your insight into the Indian Laws and Constitution.
Android apps for Indian Penal Code, COI, CPC, and more [Free]
Here is a list of the apps, have a look.
IPC App
Constitution of India Ap
CrPC App
While it is best to always check the official website of Law and Justice for the latest & accurate changes, here we go if you need something on your phone.
1] IPC – Indian Penal Code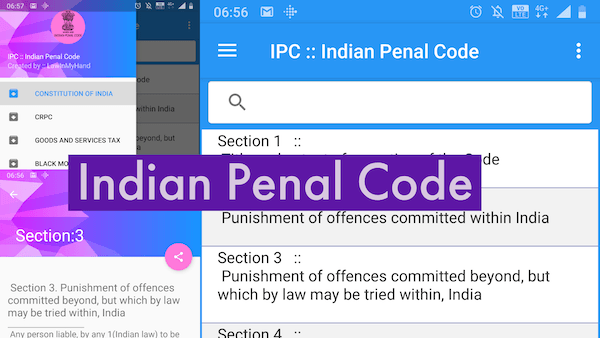 Indian Penal Code (IPC) is the complete code that covers all the substantive aspects of criminal law. You can read more about IPC on Wikipedia. If you want to know more about the different sections of the IPC, the acts considered to be an offense, the punishment for the crime, and so on, then this app is for you.
This Android app named "IPC – Indian Penal Code" has it all. It supports searching and has the complete Indian Penal Code (IPC) and ACTS in a Readable format. It has all the 511 sections in an unedited form. If, anyhow, you have an interest in knowing more about laws, you need this app. The app also has sharing options; you can easily share a Section from IPC on Facebook, Twitter, via email, SMS, etc.
2] Constitution of India
The name says it all, this free Android app named Constitution of India allows you to go through the constitution of India. All the functions and features are similar to the IPC App.
Available in OFFLINE mode (No internet required)
Contains offline MCQs (Multiple choice questions)
Polity eBooks (NCERT & NIOS) are available in Hindi and English
Online Notes and Articles to Boost your UPSC IAS Preparation
Option to Add articles, schedules, etc., to a Favorites list for quick access.
3] CrPC Handbook of Criminal Code
If you are interested in just the Code of Criminal Procedure (CrPC), this app is for you, and this app has the complete CrPC in a readable format. You can go through the different sections. Also, you can search the CrPC and share the sections; all the features are the same as for the previously mentioned apps.
Sections by Chapters
Search Sections
Recent Last Viewed Section
Share Details of a Section, etc.
If you are an Indian or residing in India, all these apps are worth having on your Android smartphone. It is probably one of the simplest ways to get educated about the Constitution of our country.
Also, all these apps don't need an internet connection, so you can utilize them whenever and wherever you want so download them. Even if you don't feel like downloading any of them, I recommend downloading at least the app about the Constitution of India. Give it a try.
Related Reading:  Special Unit for Women and Children