Have you constantly updated about the world thanks to your smartphone? While your phone keeps you connected to the rest of the world, it can lead to annoyance too. For instance, what would you do if you were in an important meeting and yet another client wanted an immediate response? In that case, you can take assistance from automatic reply applications.
Understandably, you might be busy and unable to respond immediately. Here the role of the automatic reply applications becomes critical. The app will automatically reply with a pre-set text if set up correctly. Now people know that you are busy and will revert soon.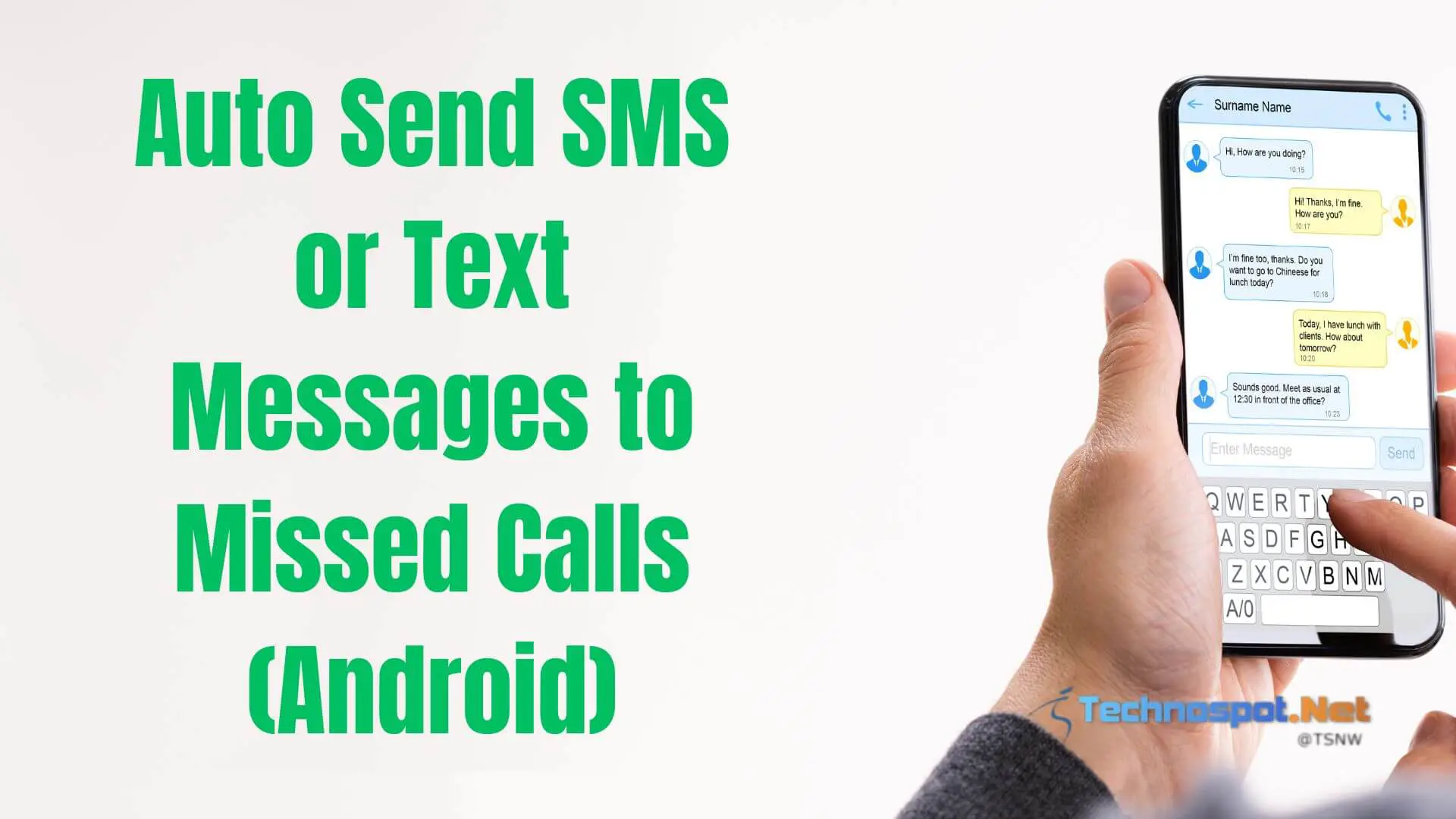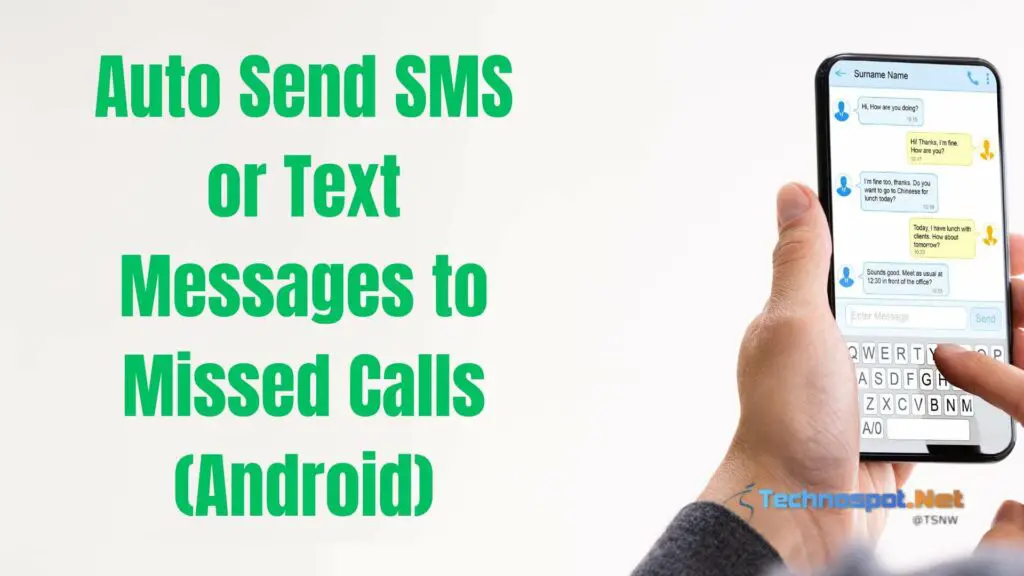 Auto Send Sms or Text Messages to Missed Calls (Android)
This article will discuss the top Android apps for sending automatic replies. Those are:
IM Auto Reply
WhatsAuto
SMS Auto Reply /Autoresponder
So, without further adieu, find all the apps that automatically send SMS or text messages to missed calls.
1] IM Auto Reply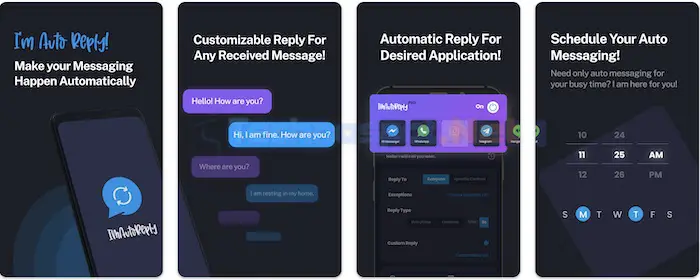 One of the best auto-reply applications for Android is IM Auto Reply. The app comes with a wide range of exciting features. It is perfectly compatible with different messaging services such as Facebook Messenger, WhatsApp, etc. With the quick reply feature, the app responds immediately to notifications on your device.
That can be done if you don't want this app to respond to all your messaging services. You can choose the ones where you want to send automated replies. Besides, you can also select contacts whom you want to respond to when you are busy. It doesn't have to apply to everyone on the contact list.
Besides, the app is easy to use. You only need to choose the apps you want to send the replies to. After that, add custom text, and you can start right away.
Features
Compatible with multiple messaging services
Save custom response
Choose from various reply methods
Pros
Easy to use
Supports SMS automatic replies
Cons
Not compatible with all devices
2] WhatsAuto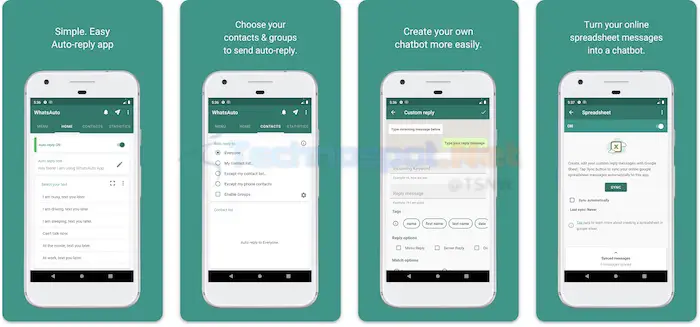 Are you looking for an easy-to-use app that sends automatic replies? In that case, look no further! Check out WhatsAuto, the best Android app for sending messages in WhatsApp and SMS. There are multiple auto-reply texts available from which you can choose one.
After that, you can also choose whom to send these replies to. The options include – Everyone, Except my contact list, except my contact list except my phone contacts, and enable groups. You can also set up the time of the replies.
Another exciting feature is that you can create a chatbot without expert coding knowledge. The app is available in 22 languages and supports all messaging apps. The tool uses AI or Artificial Intelligence to make the conversation human-like.
Features
Supports auto-reply to groups
Compatible with various social messaging apps
Create your chatbot
Pros
Customization of the reply time
Driving mode available
Cons
Additional features in the pro version
3] SMS Auto Reply /Autoresponder

Another excellent Android app for sending automatic replies is the SMS Auto Reply /Autoresponder. It offers automated replies to SMS as well as missed calls. You can create a list of contacts you want to respond to. It is not necessary to reply to every person who wants to get in touch with you via this app.
There is a list of auto-reply messages available. You can either edit them or add your own. Besides, you can set a time so the app can send the replies as scheduled. The app is compatible with numerous messaging services such as Instagram, FB, and LinkedIn. Besides, the app offers multiple personalization settings.
Features
Available for free
Customization can be done
Multiple profiles
Pros
Cons
Conclusion
Do multiple people need your attention at the same time? It is practically impossible to respond to various people all at once. Here, you can opt for the help of automatic reply applications. These apps send texts or SMS-s and alert the other person that you will get back to them soon.
These are the top 3 Android apps for sending automatic replies when busy. Take a look at the features, pros, and cons to have a better understanding.