Most of the smart-phones now have the option to send a text message at the time of rejecting any incoming call. However, the situation is different when you aren't even around to attend the call or never heard your phone ringing. In this post, we are talking about an application that can auto send an SMS or text message to missed calls.
Auto send SMS or text messages to missed calls (Android)
The app we will use here is MacroDroid. It is one of the best ways to automate tasks on your phone if it is allowed to run in the background. Most of the phones do allow that, but it is something you should check. Now let's figure out how we can set up a macro to auto send SMS or text message for all or set of contacts for missed calls. The application is for Android.
Select a Trigger for missed calls
Launch the app and tap on Add Macro.
Under Trigger, tap on Call SMS > Call Missed. Allow permission to make and manage phone calls
Select from Any Contact, Any Number, New Contact, or select a particular contact.
The trigger will be added and displayed.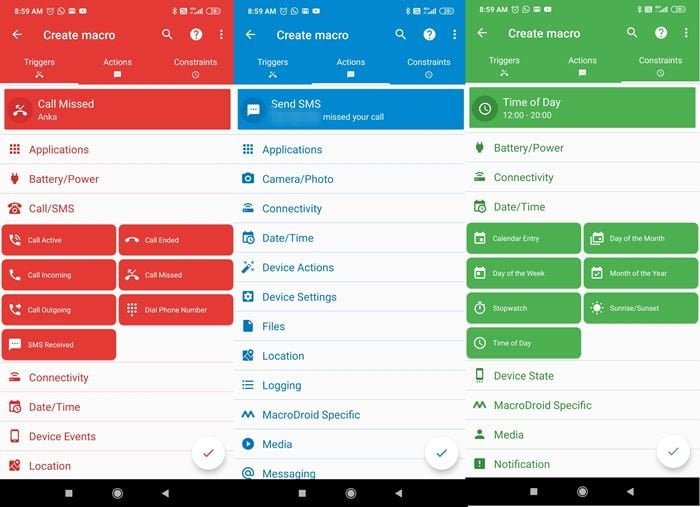 Setup Actions to send a text message for missed calls
Switch to Actions tab > Messaging >Send SMS
Permit the app to send and view SMS messages
Here you need to add the number and the message text.
Setup constraints to avoid untimely response
While optional, it is useful if you are around the person during that time. So if your wife calls, and you are at home, you can walk to her. It would be best to use the period or location-based trigger for this.
Remember, you can add multiple triggers, actions, and constraints within one macro. It is useful when you want to combine numerous scenarios. Tap on the Tick button to complete the Macro, name it, and add it to a category.
Testing Macros
The Macros can also be tested without any real actions. Open the Macro, tap on the hamburger menu, and click on Test actions and Test Macro to see if it works as you expected. Testing actions is probably the best way to find if the Macro is working as it will honor the constraints.
The free version of the MacroDroid allows up to five Macros. It should be sufficient for most of the users, but if you need more, you can always buy the pro version for Rs 150. It will also remove the advertisement shown in the free version.