One thing which I had always loved about BlackBerry was the LED Light notification when an eamil dropped in or when I missed call which is a really helpful thing in case you forgot that there was a missed call.
Now with Android something like this is possible witha third part app developed by bartito @ XDA Forums and it works on Android ICS. This app is called as Phone Notifier which can notify you about missed calls and SMS which you did not see by LED blinks, if your phone supports or by sound notification.
Notification Features for SMS, MMS and Missed calls :
Select Notification sound and choose to vibrate or not
Choose LED Color
How often you want to get reminder which is as frequent as Half Minute to Ten Minutes.
You can also choose when to turn this off which can be set for X number of times or when Screen gets turned on or Device is unlocked or When you open the call log.
Option to Enable or Disable individual notifications.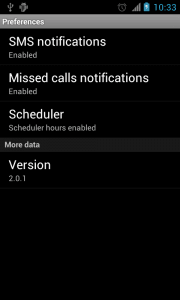 What is best about this app is it comes with a scheduler feature which means if you do not want to get notified at certain period of time i.e. sleeping time you can turn this off and it will get turned on in morning. You also have this option that can be set for any day of the week or only weekends or create your own rules with choice of Day and hour.
Video  Demo 
You will need to enable third party apps permission to be allowed on your phone to use it. You can use Droid Explorer to deploy it one one click after connecting to your phone. Download the App from here
Screenshots