Google announced the launch of Android Market Webstore recently. If you are an Android user, you might be aware of the app installation procedure on the Android devices, i.e. if you are willing to install an Android app on your device, earlier you had to search for the app in the Android Market using your phone, later install it.
Not being very comfortable with the browsing on phone, I always wished, if there was something like iTunes for Android devices as well, so that I could do all pre-installation research, reading and overview on my computer, and later from there itself I could install the app on my phone. Below is a video demo on how you can install the apps and then I gave talked about Android  Wesbstore in detail.
Video Demo : How to install apps from Android Market using Browser
What does Webstore offer you :
Now, with the launch of Android Market Webstore, you don't even need to pick up your phone to install an app on your Android Device, browse the Webstore in your Browser, and when you find an app to be installed on your Android device you can install it on your device directly from the browser, without connecting it to your computer.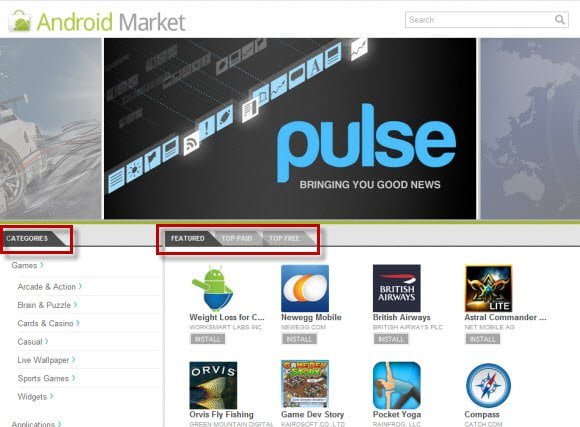 The layout of the Android Webstore homepage is pretty impressive in terms that it has the Categories, Search box, and Featured, Top Paid and Top Free tabs, which makes the browsing an searching an app pretty seamless. Clicking on a specific app, it takes you to the app page in the Webstore, here you can get all the information relevant to the app. Also you get to read reviews, screenshots, compatibility with Android versions, and the permissions required to run the app on your device, as shown below.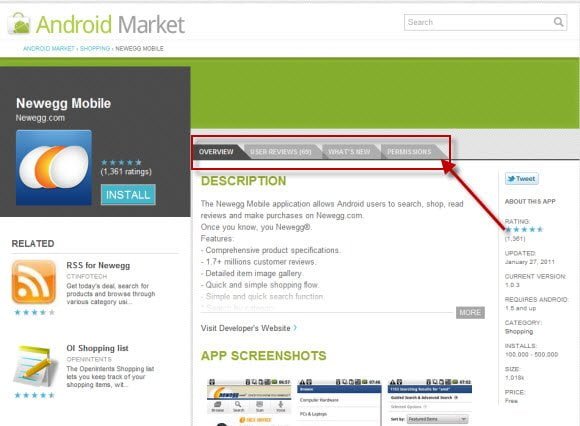 How the Webstore makes a seamless app installation :
As soon as you find an app which you want to install on your device, simply click on the adjacent 'Install' button. As soon as you click on the install button, it asks you to sign-in (sign in with your Google or Gmail id which you access on your android device). As soon as you are done with sign-in it will show a list of devices attached to this account, now select you device to install the app.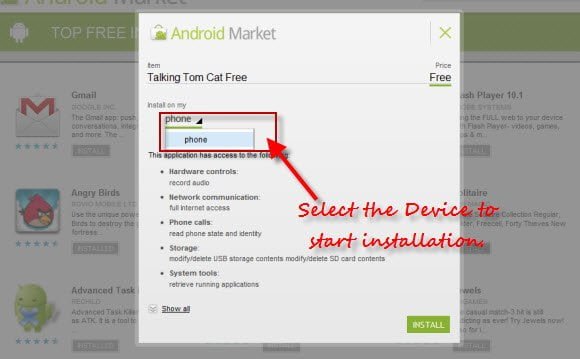 The downloading starts almost instantly, however if your phone is switched off at the moment when you clicked on the install button, the download and installation starts when you switch on your device.
What if the download doesn't not start Automatically ?
If somehow it doesn't start automatically, launch an application which accesses the internet connection of your device, and the downloading will start.
Summary :
Android Market Webstore will definitely increase the fan following of the Android, installing the apps in few clicks without any types of direct connection or sync is an added advantage. If you ask me, I am in love with this new enhancement, installing an app is really seamless with Webstore, what do you think about it, share your views with us via comments.
Visit the Android Market Webstore