Notifications are an integral part of our professional and personal lives. Notifications help us stay updated and connected to what's happening in our lives and inform us about what needs to be done. Missing these notifications can be troublesome, and checking your phone every time you receive a notification ping is time-consuming and hampers workflow. But what if we told you that getting Android notifications on your Windows 11/10 PC is possible? Well, it is. This article will tell you how to get Android notifications on your Windows PC.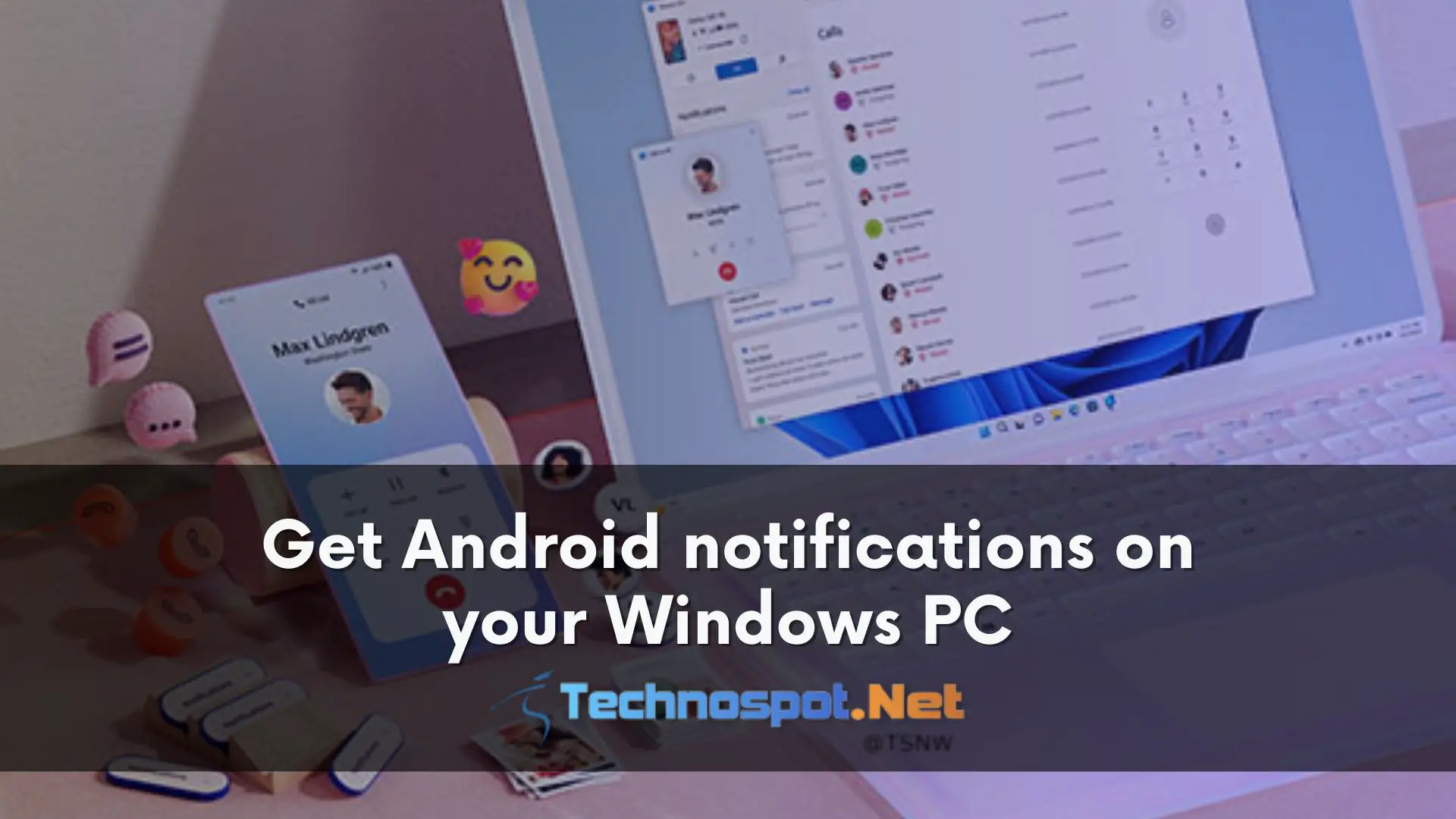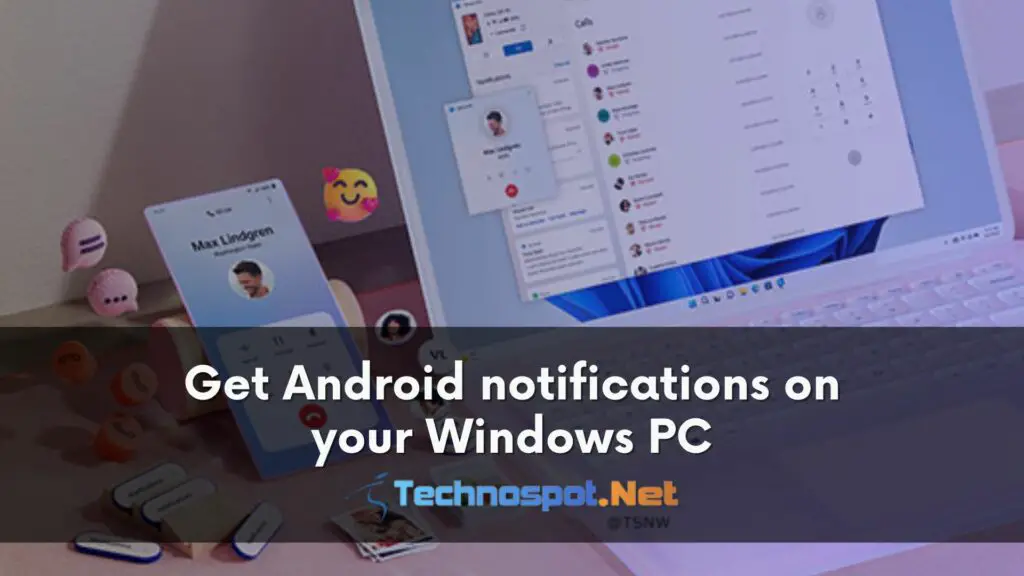 How to Get Android Notifications on a Windows 11/10 PC
This section will tell you how to get Android notifications on your Windows PC using a preinstalled Windows utility that facilitates the connection between your PC and Android smartphone and also using a third-party app. Here's all that's covered in this article:
Get Android Notifications On Windows PC Using Microsoft Phone Link
Get Android Notifications On Windows PC Using Pushbullet
Let's now have a detailed look at each of these methods.
1] Get Android Notifications On Windows PC Using Microsoft Phone Link
Microsoft Phone link (Previously known as Your Phone) is a preinstalled utility that links Android and iOS smartphones to your Windows PC, allows seamless wireless sharing of files, messages, and notifications, and even allows you to make calls. Here's how to use the Microsoft phone link to get Android notifications on Windows PC:
After the initial setup, a few additional steps must be completed.
Open the Microsoft Phone Link app on your Windows PC and Android Smartphone.
On the PC, head over to the left pane of the app. There, you will see a finish setting up your notifications prompt. Click the Open settings on mobile device button.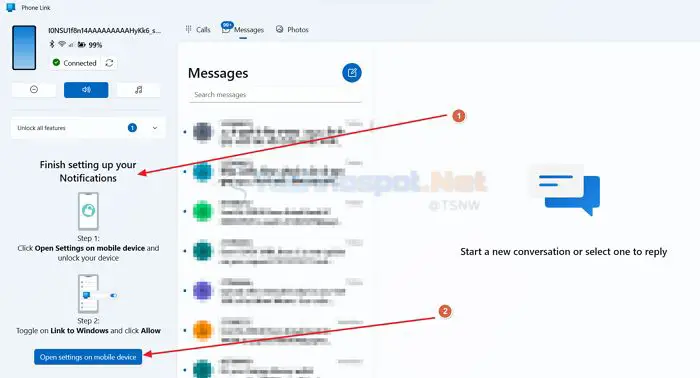 Once you click the button, settings will automatically open up on your Android device. You'll see a list of apps; among the apps, open Link to Windows.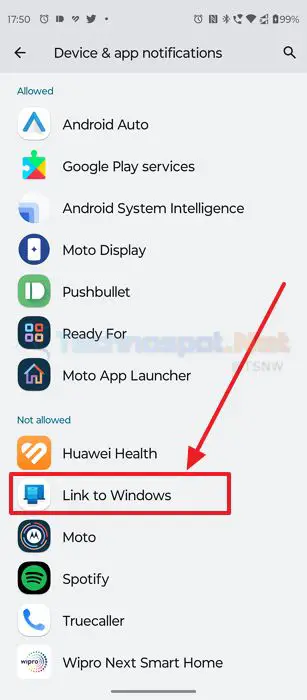 In the Link to Windows notification access settings, toggle on the Allow notification access option. Once enabled, you can see all your device notifications on your Windows PC.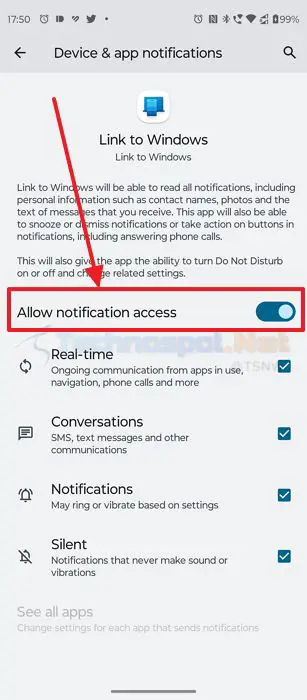 You can also choose which apps to get notifications and how the notifications appear on your PC.
To modify notification settings, click the Settings icon in the top right corner. Then open features. In features, scroll down to find Notifications.
Now, you can select whether to show notifications as banners or in the link to the Windows feed. You can also control how notifications from each app are received and even disable them.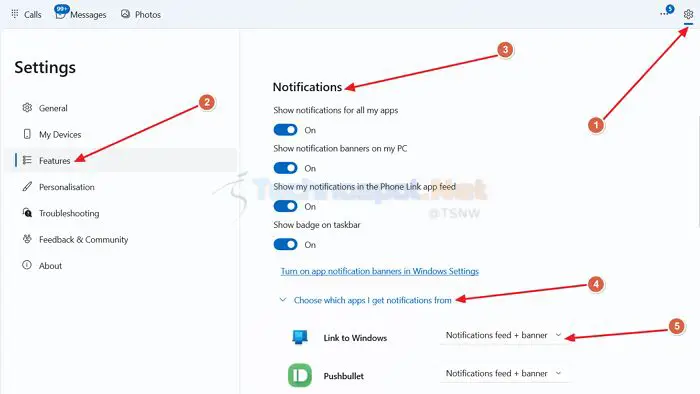 2] Get Android Notifications On Windows PC Using Pushbullet
Pushbullet is a browser extension for Chrome that is connected to the smartphone application and allows you to seamlessly receive notifications from your Android device, transfer files, and send URLs, text, messages, and images.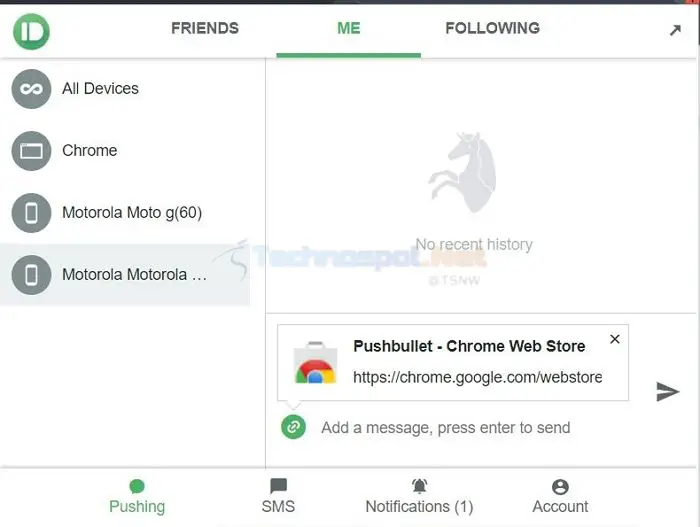 The critical difference between Pushbullet and Microsoft phone links is that both devices must not be on the same network to stay connected. The application utilizes the individual internet connectivity of both devices to transfer notifications, messages, files, and images.
Since the utility gets integrated into the Chrome browser, it becomes less hassling for the user. However, the file transfer speeds are slower, and Pushbullet also lacks certain vital functionalities, including the ability to control notifications for individual apps.
Download the Pushbullet Chrome extension and the Pushbullet app for Android to set up the application. Sign up with an account, and ensure the same account is logged into both devices. Once logged in, allow the necessary permissions on your Android, and your notifications will be synced to your Windows PC.
Download Pushbullet Chrome Extension | Download Pushbullet Android App
Conclusion:
This article taught us how to get Android notifications on Windows PC. Microsoft is continuously developing ways to enable seamless sync between Android and Windows devices.
You can achieve that to a certain extent with Phone Link and third-party applications. Not picking up your phone to check notifications and access files can save time and greatly aid your productivity and workflow. We hope you found the article to be helpful. Please make sure that you share it with everyone.
How Can I Use My PC as a Screen for My Android Phone?
Indeed, utilizing your computer as a display for your Android mobile is possible. This can be achieved via screen mirroring or screen casting. You can achieve this using Scrcpy and Mirror apps like AirDriod or Chromecast. Be mindful of security implications when using third-party applications. Check out privacy policies and permissions.
Can I Make a Phone Call From My Computer for Free?
It's feasible to make phone calls from your PC at no cost. Numerous apps offer this service, including Google Voice, Skype, and Zoom. You will need to set up an account; typically, calls within the same platform (Google Voice to Google Voice, Skype to Skype, and so on) are cost-free. Be aware that dialing standard landline or mobile numbers may incur charges. Ensure you have a reliable internet connection, voice transmission, and reception device.