Microsoft's Your Mobile feature in Windows 10 can display Android notifications on Windows 10 computer. The best part of this feature is that you don't need to use any third-party launcher. In this guide, I will share how you can get  Android notifications on Windows 10 computer.
Get Android notifications on your Windows 10 Computer
The best part of the experience is that it merely replicates the notifications on Android to your Windows 10 computer. All notifications are displayed through the Action center, and some of them are actionable.
Go to Settings > Phone > Click on Add Phone
Add the same number you are using on your phone. It will then send a text message to that number.
Once the message arrives on your phone, follow the link in it to install the app.
It will open the Your Phone Companion—Link to Windows app in Google Play Store. Install it.
Once installed, sign in with the same Microsoft account as on your Windows 10 computer.
Follow this link to download Windows 10 Your Phone App from Microsoft Store.
It will automatically use the current Microsoft account and sign you in.
Done that you should notice two things

Your Phone Companion app will run in the background on your Android Phone
 Notifications will start appearing in the action center as soon as the connection is active.
Microsoft has finally refined it through the apps and without any need of Cortana. However, do remember one thing that we have seen outages for it. Like any other service, it is also a service, and if you are not receiving any notification, and the app on the phone keeps showing trying to connect, its a service outage.
Configure Your Phone Apps in Windows 10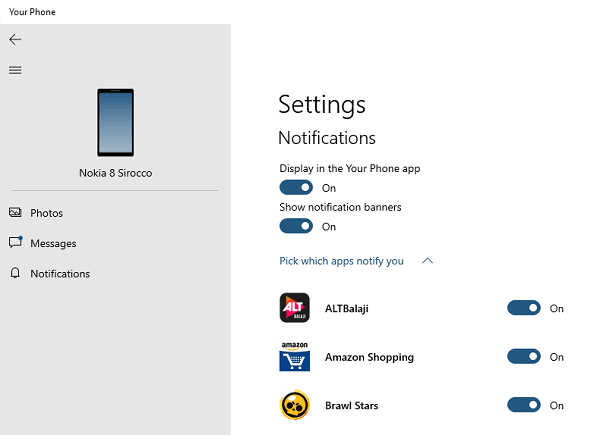 If you get tons of notifications on your Android Phone, it would be best that you configure the app and reduce the numbers. Launch the app and go to Settings. Here you can choose which apps can send notifications to you. Toggle off for those which are less critical.
We will also recommend you to turn off a few messaging settings like MMS and choose between notification banner or badge on the taskbar.
One of the best thing about Your Phone app is that you can access all the photos on your phone. You can edit them in Paint, share it using apps or save on the computer.
We hope the post helped you to get Android notifications on Windows 10 Computer.