One thing which I have always admired about iOS is the ability to hide some of the basic apps like Browser, Installing Apps etc with powerful parental control feature which is completely missing in case of Android unless you are using some apps like Visidion App Lock which control access to any app using face recognition, password lock or even pattern match.
Now what most of these apps miss is keeping out peeky mobile users to see what is on your Android. So in case you a special app or not be told app, one can still see though he or she might not have access to it. Android Parental Control is one app which tries to answer this, well almost.
Android Parental App :
This app secures any app with a password but what is interesting is the Sandbox feature inside it. This is how it works :
You Set which app get accessed.
Setup admin password
Turn on the Sandbox mode.
Save and Exit.
Now if somebody opens up anything other than home screen or even the App List, he will be greeted by list of apps which can only be accessed without a password.  This means it blocks calls, menu settings etc.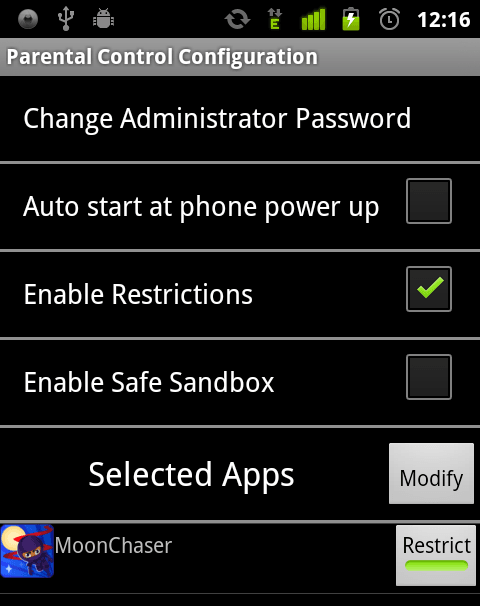 Infact while testing I found that if you lock and unlock your phone, it greets you with screen of accessible app and an unlock button which means your access to your home screen is also gone.
Now you might argue that you can just keep your phone lock then but thats not the point, what this app does is provide you with second layer of protection.
Drawbacks of the Sandbox Mode :
It becomes little irritating to keep the sandbox on all the time because it is very specific which apps can be allowed. Also the app response i.e. to gain the control of the screen with a password input is bit slow, so it happens that I am able to get into certain area and after few seconds it shows up.
So when do you use it ?
When you want your kid to just play a single game and nothing else.
When you do not want him to accidentally make a purchase. The purchase system on Android is really insecure. It never asks for a password again like in iOS.
Video Demo