Watermarking your images/photos can be very useful at times; it saves your creation from theft, as well as works as a signature for you. There are several ways and several applications, online tools etc. to watermark your photos easily. Here is another tool, a desktop application, which is free for personal use, and is really awesome in terms of the features it offers, i.e. it has the most you can ever think of in a watermarking tool, and the name of this tool is TSR Watermark Image Software.
Here is a snapshot of this tool, have a look at its dead simple interface, and also the set of features it offers.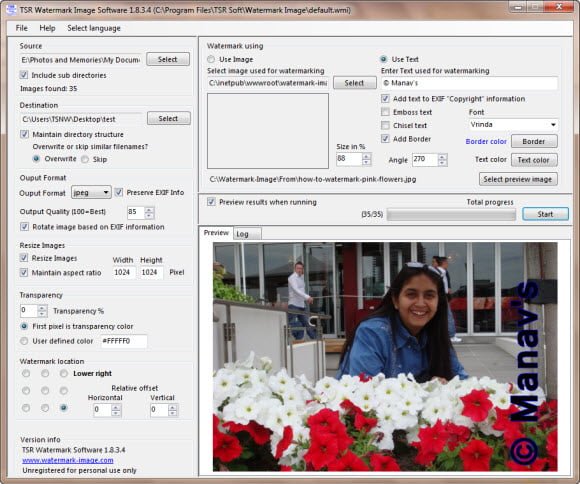 Here is the feature list for TSR Watermark Image Software –
Supports both, image and text to watermark a photo or image.
The watermark text can be fully customized for fonts, borders, size, angle etc.
You can select a different folder other than the source to save the output.
You can choose the output format other than the original format of your photos or images.
You can select the quality of output image, lower the quality level, smaller is the photo size.
Image can be resized as well, either freely or by maintaining the aspect ratio.
Set the transparency level for the watermark.
Select whether to preserve the EXIF data or not.
Watermark location is user's choice.
Interface language can be chosen, comes in 13 languages.
Lacks in –
Doesn't allow you to select files, only full folder watermarking is supported.
Working with this software is damn easy due to its simple interface, requires no learning, anybody can easily make out what the different sections on the main windows talk about.
No doubt the list of watermarking tools is huge; you have online tools, like Watermarktool and PicMarkr, also there are couples of Watermarking desktop apps, like Good Frame (best for adding frames too), VSO Image Resizer is another great way to watermark images, and can be termed to be equally good as TSR Watermark Image Software. So, go ahead and make choice.