Many a times when you do a lot of copy-paste work, which includes text, image, files or folders, there is a lot of repetition, because Windows can only remember what you copied last which gets erased by next copy action. Apart from this disadvantage, it is also not possible to recall what you just copied or what inside your clipboard unless you take action of pasting it somewhere else.
Today, we are introducing Archive Clipboard, which like its name can archive i.e. remember almost everything you had copied only to be reused again and on demand. The best part of this application is that it also comes along with power of editing, deleting and even preview it before you can use it. This application always monitors the system clipboard, and whenever the clipboard has the data, it is copied into the application.
This is specially useful for text, file or folder path and images. Later of which I found best as it can remember raw images (with image size) which can be useful for temporary storage here than anywhere else.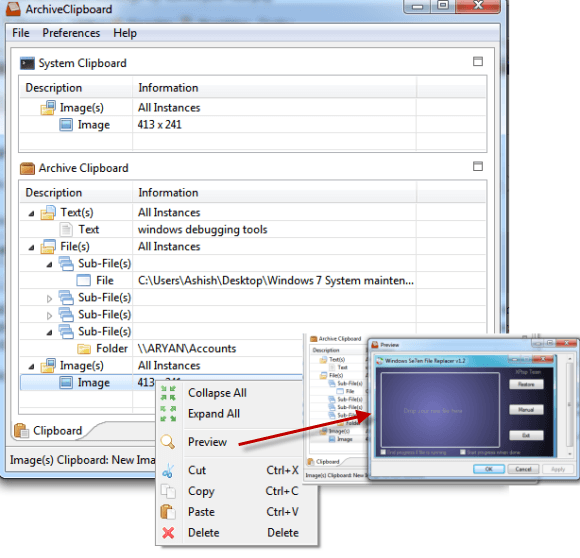 One example where this will be useful is when you want to copy multiple folders one by one to some different folder. So using this, you can copy all of them one after the other. The Archive Clipboard can remember all of them. Then you visit the folder where you want to copy, use the application to get what you want to copy into memory and paste it.
Organizing the Copied Items :
If you really took a good look at the image, you can see how well all your copied items are organized.  It gives you a clear view to understand if the copied it was a text or image or a folder. All these can be collapsed, previewed and removed when not required.
Important : Since everything is copied by default, if you are planning to copy sensitive data which can be a credit card number or password, I will suggest existing the application before doing it.  It's not because the app has something wrong, but this is in general because if you forget to remove it form the application, anybody can see it when he is using your computer, under your account.
The application allows you to have control on what kind of objects are stored in it. You can choose to add exception for text or image or file copy using the preferences.
Download : You can download this clipboard manager from here.