Ashish has already written about Text Image, which is a nice online tool to convert your photos to ASCII art. Here is another tool, Ascgen, a desktop app (a standalone application), which can easily convert your photos or images to ASCII on the computer.
Convert your images to ASCII art on your Desktop
Once you have downloaded the zip file, simply unzip and run the exe file, later click on the 'File' tab, 'Load Image' and browse to give the path of the photo, as soon as you are done with this, the ASCII art will appear in front of you as shown below.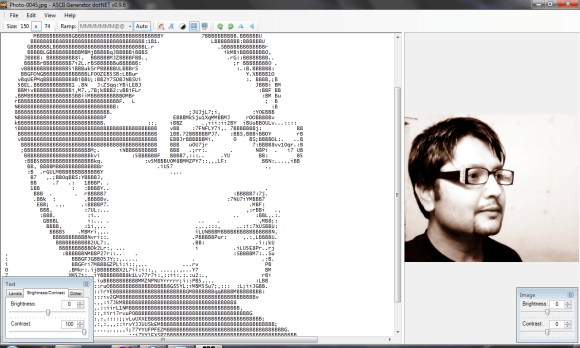 There are some options to customize your ASCII art, like brightness, contrast, etc. Later, you can simply copy this text and past it anywhere you want, use the way you want it to use.
You can also choose to convert a part of the image into ASCII. Just select the area using a mouse, and it will convert that. It also offers you to choose a font type, and size. Make sure to experiment with type of fonts to see if it works and looks good.
When adjusting the brightness, the software shows a histogram of the current image. You can adjust the minimum, median and maximum values in exactly the same way as you would in photoshop or other photo applications.
When saving the image, you have multiple format support. You can save it in the following formats
Plain Text – It's like saving a TXT file. Make sure to choose a font which is available on the computer.
Plain Text (Unicode) – Same as above, but will save as a Unicode text file that can store ANSI and other non-standard characters
NFO – Same as Plain Text (Unicode), but with the .nfo extension
Rich Text – Saves the text and font settings as an RTF file that can be opened by wordprocessors
XHTML 1.1 – Saves the image and font settings to a valid HTML file that can be opened by web browsers.