When Asus launched ZenFone 5 last year, it took both consumers and phone makers by surprise by delivering a brilliant performing device, with impressive UI and at a price which rocks the Indian market.  This year Asus came back with Zenfone 2 aiming towards consumers who would want a flagship like phone, but at lower price. While this strategy is now new as phones like Honor 4X, Yuerka, and Xiaomi Note been trying for the same.
While Asus has launched Znefone 2 in many variants for enough confusion, we have the Zenfone 2 ZE551ML which is a  4GB RAM & 32 GB Internal storage model.
Build and Design : The Thin Corners with Fat Back
Many OEMs these days want to deliver phone to consumers with flagship feel & quality.  Asus definitely has done it with the Zenfone 5 / Zenfone 4, and they are taking their next step with Zenfone 2. A screen which is bigger than 5 inch, metal looking body in the rear and thin edges. All these definitely driver that experience both in theory and real usage.
That said, the phone looks thin because of the edges, but it does have fat rear. Asus did a smart thing here. They built a fat rear which gently slopes down the edges. It's not only ergonomic, but it also easy to hold for the same reason. The rear holds the Camera, Dual tone LED flash, Speaker and volume knockers which is definitely adopted from LG's back button concept.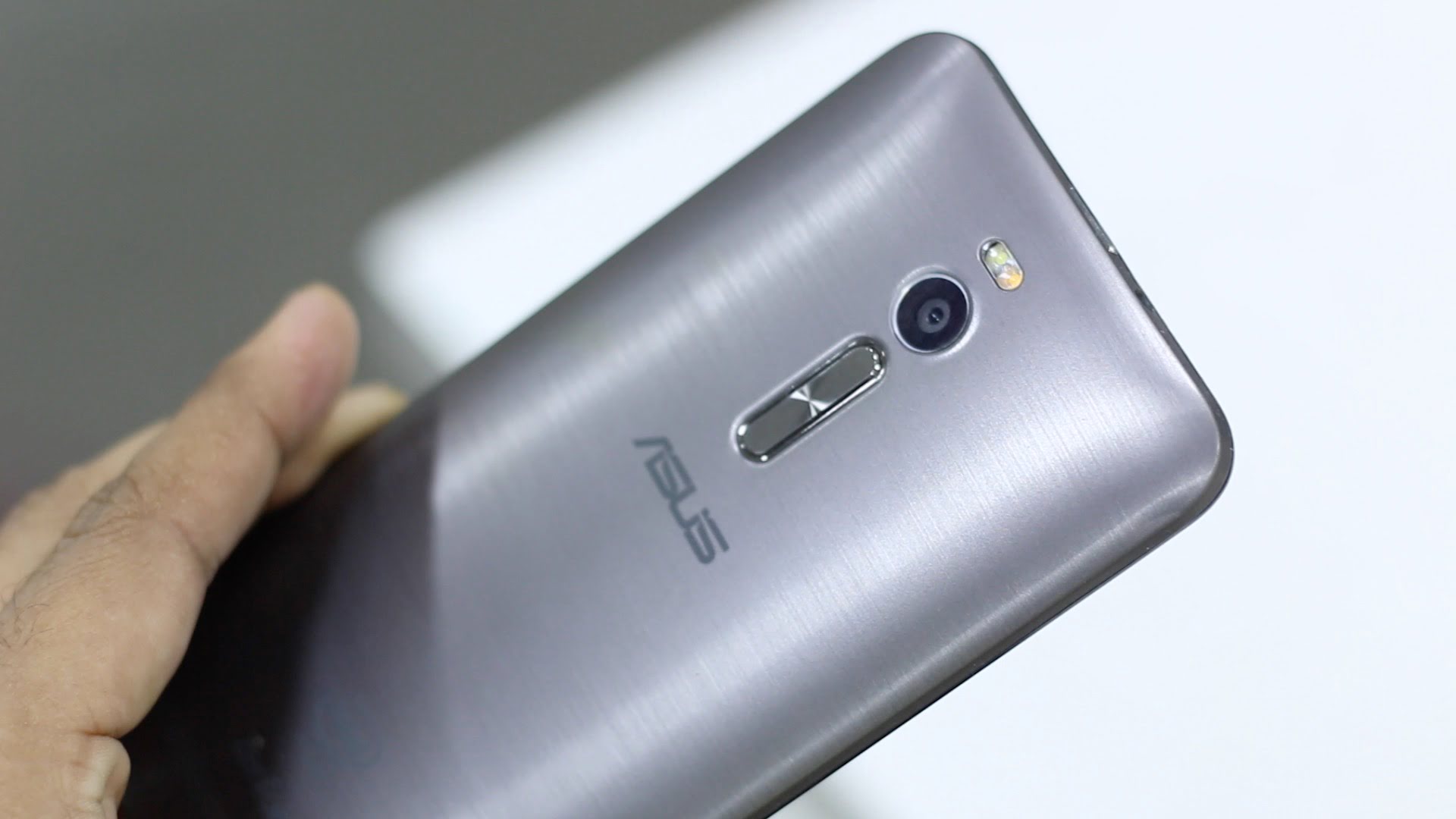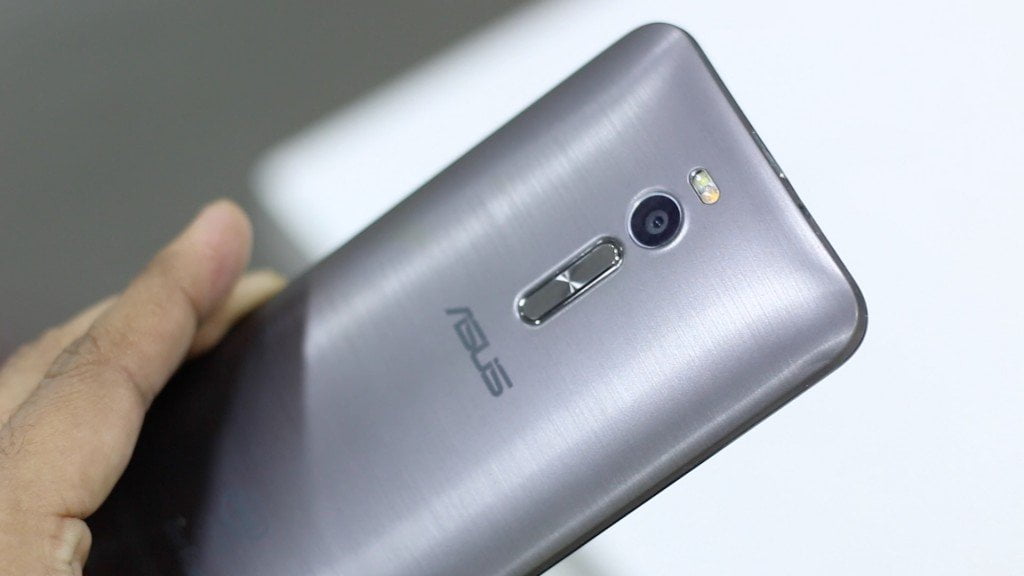 The screen to body ratio is 70% with hard capacitive buttons at the bottom which doesn't light up. A let down, and you will only have get into habit of using it.
When it comes to weight, it's not into the category of light phone, but the curved edges, strong grip makes handling easy. What I found irritating  was the tiny lock button the top which is difficult to press in one go, and needs a bit of force to press it down.
The Specification & the 4GB RAM Surprise
What really surprised everybody during the launch of Zenfone 2, is the 4 GB RAM. Its first Android phone to have 4 GB RAM which gives immense power combined with the Intel's 64-bit quad-core processor clocked at 2.3 GHz, 32 GB of internal storage and that on a  5.5 inch HD screen. Not only you have enough memory to run loads of apps, specially when Android allows you to run a lot of them in background, you can also copy files back and through faster e.g Downloading will be faster, installing will be faster, games will be much smoother and so on.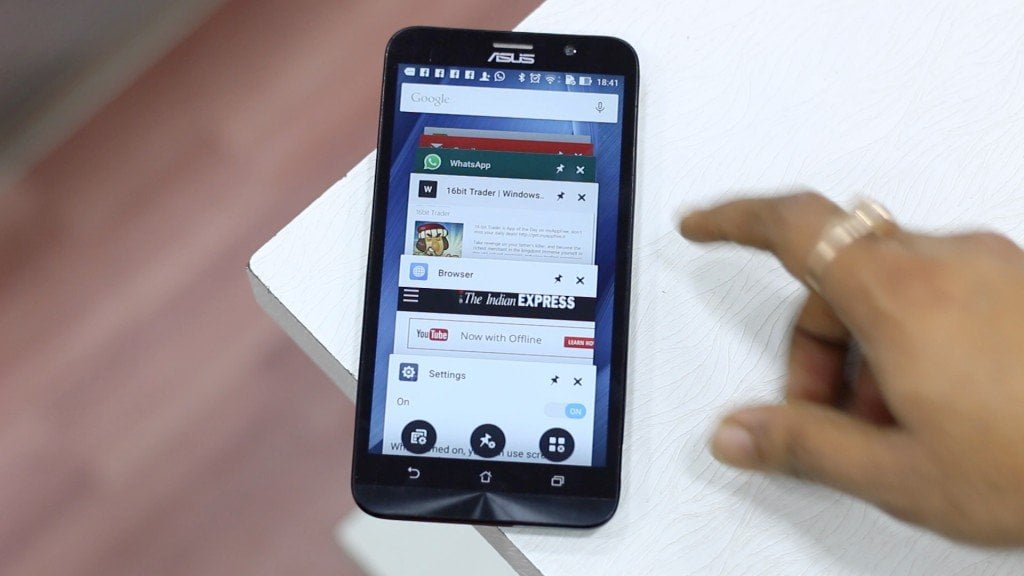 The phone is powered by Zen UI which built on top of Android 5.0 aka lollipop. You will be surprised on how smooth the experience is even though it's not stock android.  There are many features integrated which you get as an experience and in the end all that will matter.That said the phone holds a  13.0-megapixel camera on the rear with dual LED real tone flash, and the front facing camera is a 5.0-megapixel.
How does it actually perform?
It was really smooth even after using it for around 10 days with so many games, lot of picture, movie, music and what not. I have usually seen Android phones going down within a week, but this one is an exception. Asus has nailed it by combining the ultra packed hardware along with their Zen UI which already had positive impression, and didn't failed me here as well.
High End Gaming:
This time I choose some high-end games to test the 4 GB limit. I usually stick with Asphalt 8 : Airborne, but this time we had Marvel Contest Of Champions and Godfire. Both of these games are free and needs to of memory and processing from the phone to keep up.
Asphalt 8 Airborne :  Ni hiccups, No Lags and no frame drops. The phone never heated even after playing for 45 minutes. Battery drain was high, but thats expected when you play it on high setting with full-blown speakers.
Marvel Contest Of Champions : This is a dual fight game with some brilliant graphics, and you will end up swiping throughout the screen.  There were no hiccups, but the phone managed to heat up a bit in 15 minutes of game play.
Godfire: This game pushed Zefone 2 to its extreme. Not only the phone heated up a lot, it also had frame skips and lags, but on lower side.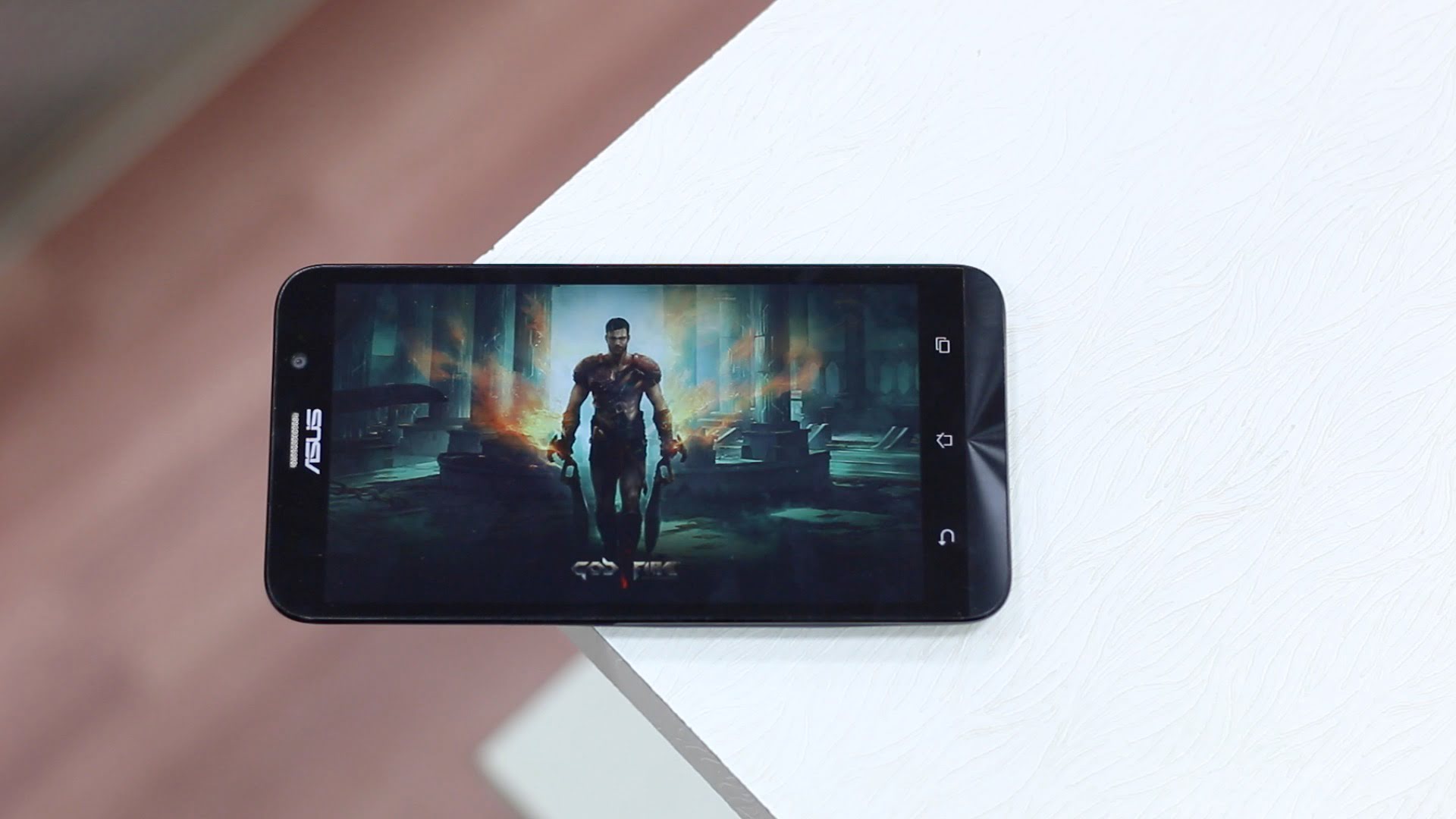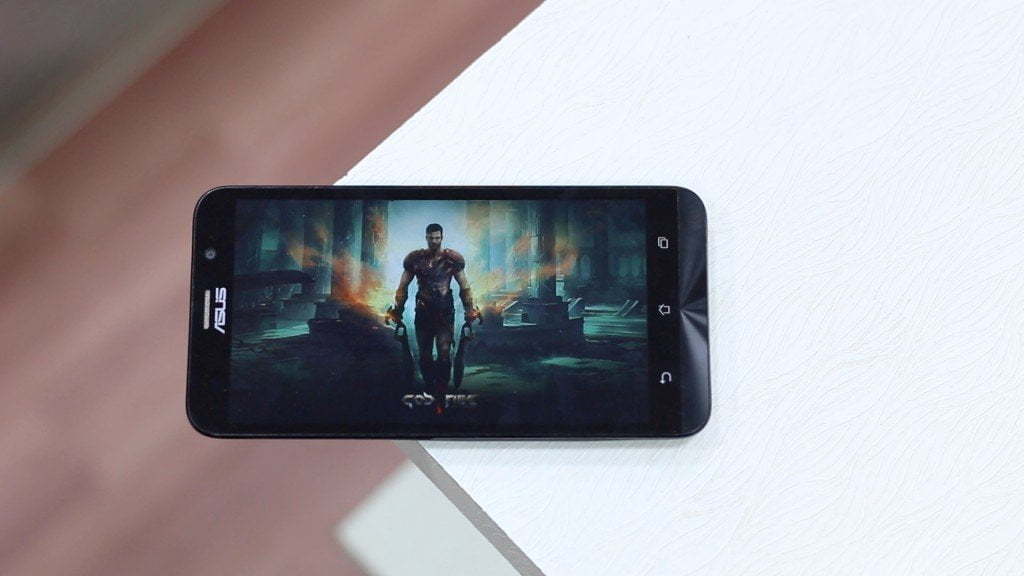 All this proves that the game is ready for extreme gaming and will be able to make most of the consumers happy!
Camera Performance:
The camera app looks really well done on Zenfone 2. Its fast, comes with full of feature, and you can quickly move between various modes. As you launch the app, you have settings both on right and left. Most of us will end up using the default settings, but take a look at right bottom for modes if you love experimenting taking pictures.
The Asus Zenfone 2 comes with a 13 MP rear shooter, with a dual tone LED flash.It also includes the Asus's Pixelmaster technology which claims to offer better shots in low light, specially with f / 2.0 aperture. It comes with quick options for novice users i.e. Time Rewind, HDR, Panorama, Night, Miniature, depth field and so on. Even the video mode has features like Auto, Miniature and Time-lapse to help you shoot lively memories.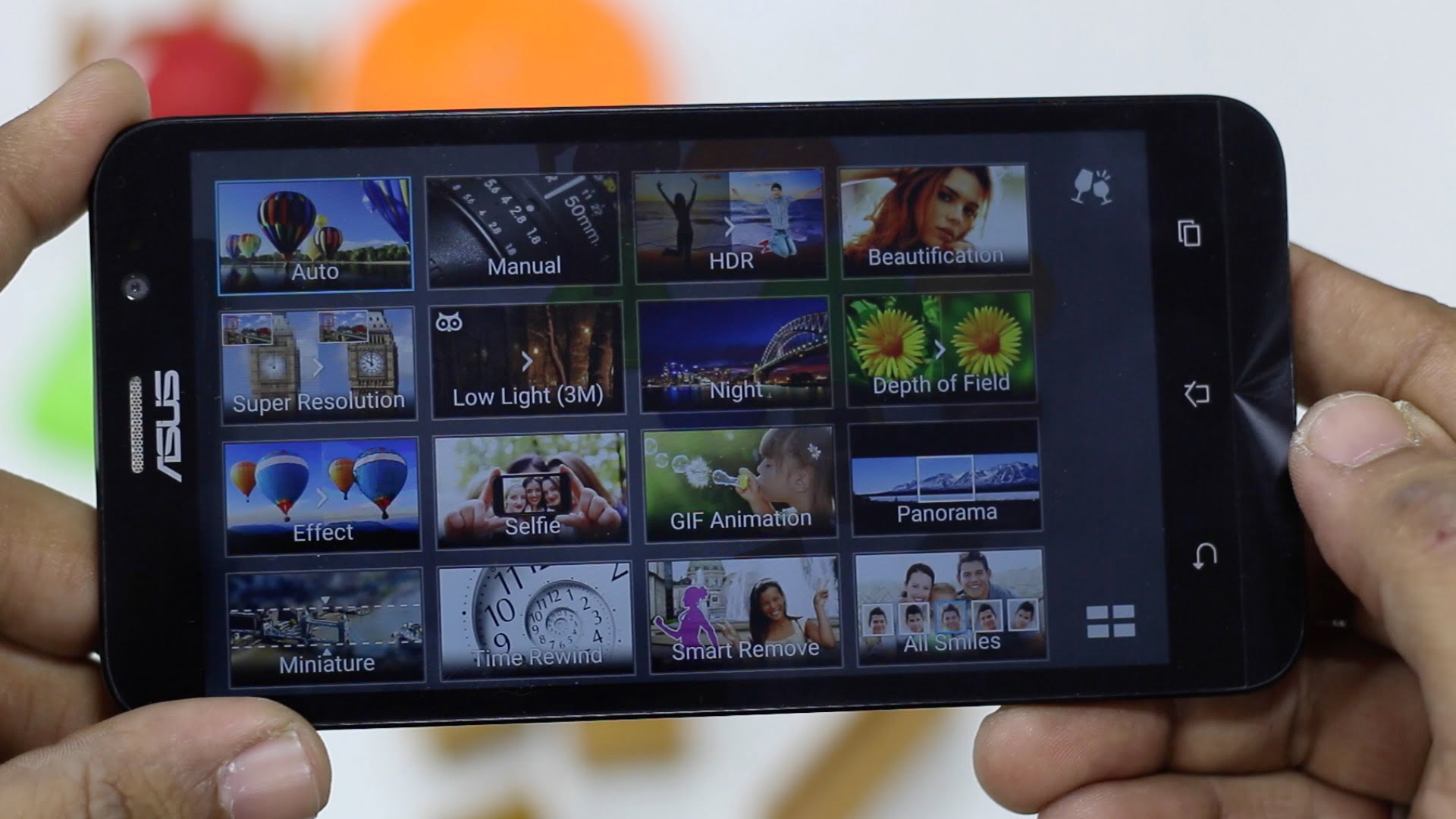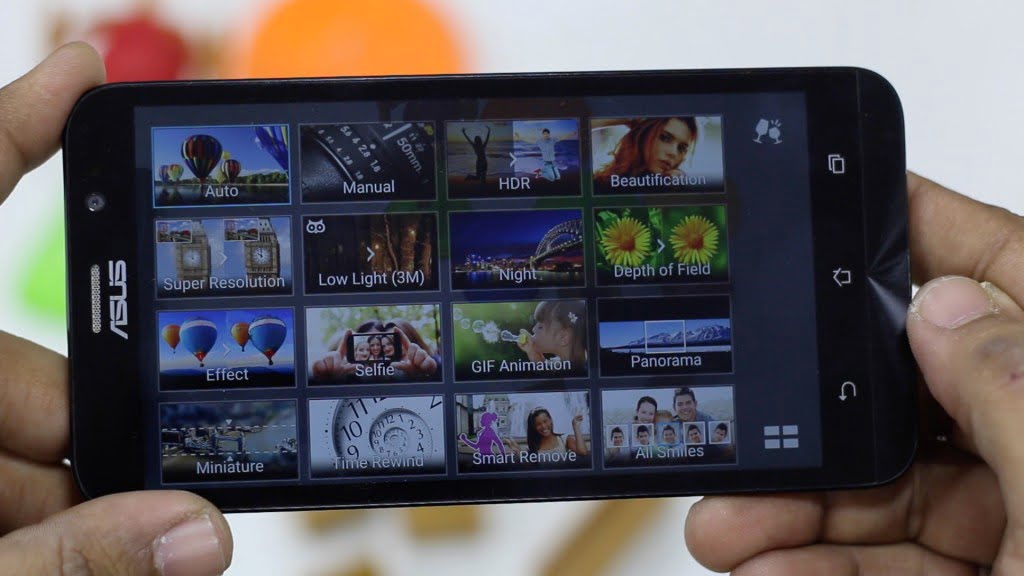 Those who love to experiment, you have manual settings available which allows you to control settings like exposure, ISO, white balance etc. However,  Asus is yet to make the tech needed for low light performance. Like most of the phones, it does a great job in good lighting condition and in macros, but when it comes to low light, it fails. We expected it to do a lot better, specially at the price.
Low Light / Flash and Automatic
Those who love taking selfies, the front facing 5 MP camera comes with wide-angle and real-time beautification. It also includes a selfie panorama mode which helps you fit in more than expected people.
Zen UI
The phone comes with Zen UI built on top of Android Lollipop. While you can see the material design here and there, Zen UI delivers hell lot of customisation. So much that sometimes it had me confused Nevertheless, it is one of the best ROM to use for Android which includes a lot of useful  in house apps.
You have option to double tap to sleep to keep off the annoying power button, you can resize the screen to one hand size and so on. We are working on a detail tips and tricks for Zenfone UI which you can expect the next week.
Audio, Music Playback and the in-call Quality:
While the music playback is not here to impress, but its at par with most of the Android Phones. I had used several music app including the one that stream over internet, and they all worked perfectly except that at full volume it may sound a bit harsh, though music in games whereat a problem a at all. I will suggest either to lower the volume a bit or use equalizer to balance it out.
The in-call quality is great, and with inbuilt recording functionality it will attract a lot of consumers who need to record every call.
Battery : How long does it last ?
When a phone houses a lot of power in terms of hardware, battery gets used a lot and even if not much used, the hardware itself can consume a lot of memory. And then its Android, know for consuming a lot of battery. I was able to get through half of the day with high usage and then it starts going down the graph a lot faster.
The phone manages to get around 14-15 hours with normal usage while with heavy usage, expect it to last around 10 to 11 hours tops. You either need to have a battery pack around or at least carry your charger all the time.
The battery capacity is 3000 mAh and its non removable though you can take out the rear case and look at it.
Value for Money & Conclusion:
Priced at Rs 19,999, it is one Android phones which delivers smooth experience. The performance speaks for itself, can play high-end resource hungry games,  camera is decent, and display is just outstanding. On tops, the Zen UI and the apps will make it stand out.
[wp-review]