I am often found managing downloads, by manually transferring them to music folders, wallpapers folder, software setups folder etc , finally I got this solution, Download Mover, which automatically moves the files to their destination folder, by identifying them on the basis of the file extensions.
A 341 KB sized, compressed (.zip) folder is to be downloaded, extract and run the executable (.exe) which will open the following window in front of you, as shown below, specify the folder to be watched for any new downloads, later click on new button, specify the file type and the destination folder which is the final abode for the specified extension type files.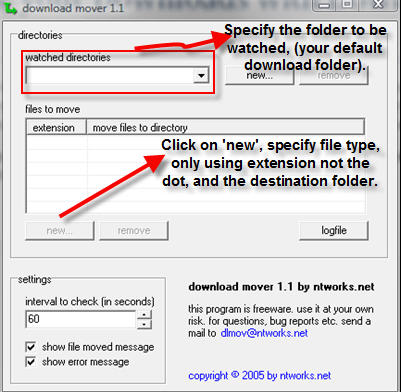 You can also set the interval, after which the default download folder will be checked for any new files, and will respectively send them to the specified folders, and a pop up message will inform you about the success or errors (if any, generally no errors occur).
Here is small animated image, have a look at the working of Download Mover.
Liked this tool a lot, in love with the simple interface, and no more manual transfers, Thanks to Download Mover. Download Download Mover