AutoSaver is a small nifty utility for automatically saving the changes after every specific interval in a file as you work on it, i.e. suppose you are creating a word document, the AutoSaver will automatically keep saving the changes after a certain interval, without any manual intervention.
All you need to do is download the AutoSaver and run the exe file, now you can find the AutoSaver in your system tray, as shown below.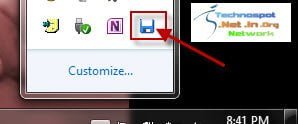 Now, the AutoSaver will keep saving the changes made to the files which are opened using any application that uses the 'Ctrl+S' to save the changes.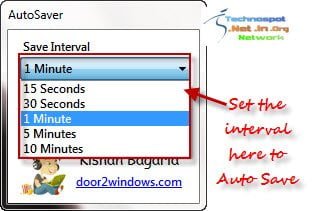 You can select the time interval for auto saving your work by clicking the AutoSaver icon in the tray, as shown below.
AutoSaver is a great utility, especially if you don't have a power backup in your system, however this could be a bit irritating in some cases like it keeps asking for a save even if you are working in your browser, also you need to be careful even while reading an editable document in order to be safe from saving any accidental changes you make in a document.
Download AutoSaver, AutoSaver has been developed by Kishan, the same guy who gave us the Taskbar Thumbnail Customizer, Thanks Kishan.