Giving the correct size i.e. height and width attributes is very important if you want to speed up website load. Though this is not the only point but if you give size the browser can find how it can handle image better and it was also pointed for my site when I tried the Google's Page Speed Plugin.
For websites who have lot of  HTML pages or pages built using PHP, ASPX, PHTML, JSP or HTM or any other it is very difficult to update each and every page. You need to check first where the images are and then update by finding size of each and every image.
Img Tag Updater is a free tool which can automatically sets and updates the height and width attributes of IMG tags of web pages based on the original height and width of the source image. It reads the img tag, checks the images, finds the sizes and update it in the HTML source, So you do not need to find and set the height and width of each image manually. It also supports subdirectory.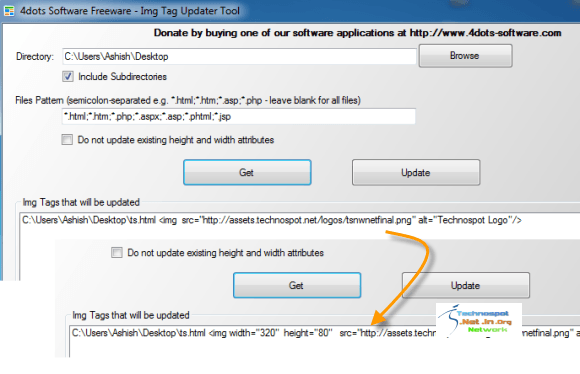 You can set  the file pattern, folder path and then press get to see all the attributes and then press update to commit to changes. You will have to again click on Get to see if the changes were made. If this application had live view of updates happening I would have loved it even more.
Many bloggers using WordPress or PHP based application will love this as you can update the PHP pages in one shot.Just download you theme files and let this application update all your IMG tags. Download it from here.
related :   Tools to Optimize Images to load website and blogs faster