Any application after a long use gets buggy and Windows is not an exception. There are many issues that users face and they try to solve but certain issues that are common to many of us such as Audio problems, broken shortcuts, power issues, startup slow down because of the missing application itself. Start with Windows 7, Microsoft introduced Troubleshooting which listed some common problems and solutions for that. Users can choose to run them if they face any problem. In this post, we will share how to manually or automate troubleshooting in Windows 10 and Windows 7.
Manually or Automate Troubleshooting in Windows 10 and Windows 7
Windows 10 now offers both automated and manual troubleshooting. The system has grown smart enough to figure out if you have an issue, and resolve it for you if allowed. Windows also offer a plethora of built-in troubleshooting that can help you resolve a lot of small issues without referring to anyone.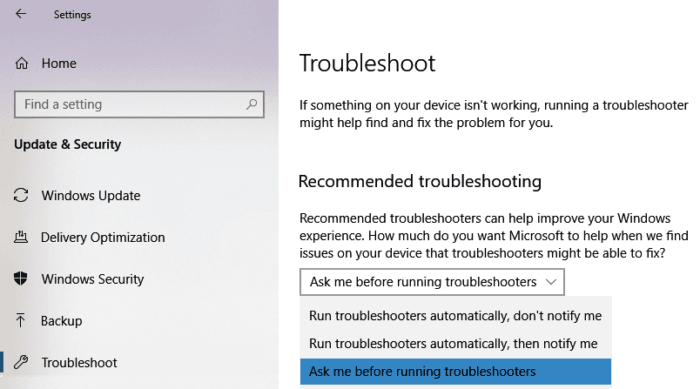 Click on view troubleshooting history to find out of the system every ran a troubleshooter.
Automated Troubleshooting in Windows 10
All the troubleshooters are available in Windows Settings > Update and Security > Troubleshoot. Under recommended troubleshooting, you can choose between three options.
Run troubleshooter automatically, don't notify me
Run troubleshooter automatically, notify me
Ask me before running troubleshooters
Manual Troubleshooting in Windows 10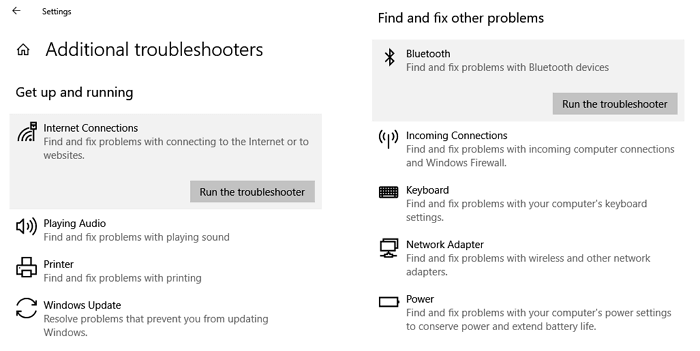 In the troubleshooter section, there are tons of troubleshooters which include Internet connections, Playing audio, Printer, Windows Update, Bluetooth, Network Adapter, and more. Select the one that will likely resolve the issue, and select Run the troubleshooter.  The wizard will start a bunch of automated processes that may include steps to restart service, resetting parameters to default and more.
Windows 7 Troubleshooting
In Windows 7  Troubleshooting was given an edge to ease users to solve certain problems by themselves or by using Automated programs like System maintenance. These programs can help you fix all those common issues which I pointed above ( Even your clock sync can be fixed ).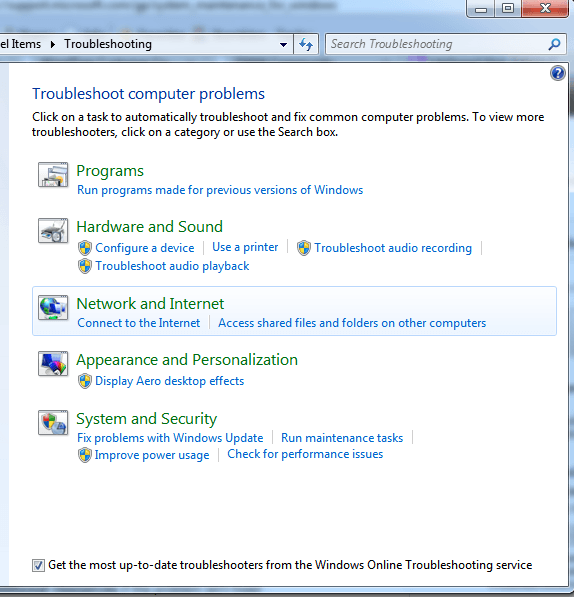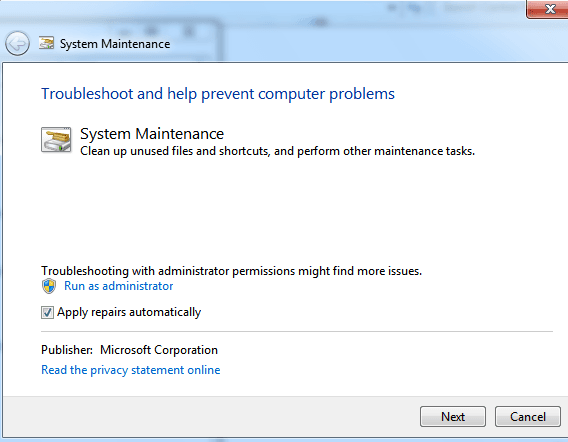 This can be found in Control Panel > Troubleshooting. In an earlier version of Windows i.e. Windows XP and Windows Vista, this feature was missing and for this, the Support team has introduced a program under Fixit which fixes :
Problems with desktop shortcuts and icons
System maintenance tasks
Windows update error 0x80072F8F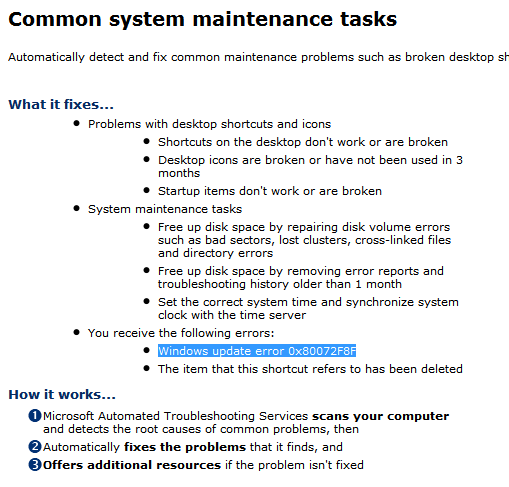 Doing System maintenance is always a good habit. You don't have to do it every day but if you run this fix it or if you are running Windows 7 you can use the Action Center Messages to follow it up.