Smart Wallpaper is a free blackberry app which let's you randomly changes wallpaper even if your images are available at different places like memory card or on BB phone memory.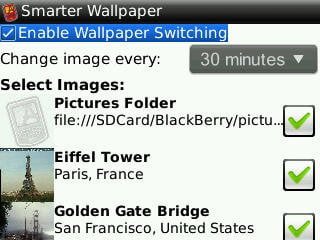 Time interval for changing wallpaper can be set from 15 second to a day. Another interesting feature of this app is that it can get images from live cam which includes the Eiffel Tower, the Golden Gate Bridge, the Pyramids etc. 
 However in case you already have a theme which does that, the result can be little different.  Download Smart wallpaper
Tips on the move!