People who spend much time before the computer and especially those big size monitors face one small problem. Have you ever noticed you feel like reducing the brightness of the monitor when its night? Yes, Why? The explanation is simple. If there is not enough light in the room or from behind to compensate, the light from the monitor is the only source, and it will stress the eye. It is almost like watching the brightest star in the darkest part of the galaxy. So, in this post, I will show how you can automatically change the brightness of your monitor as the day passes.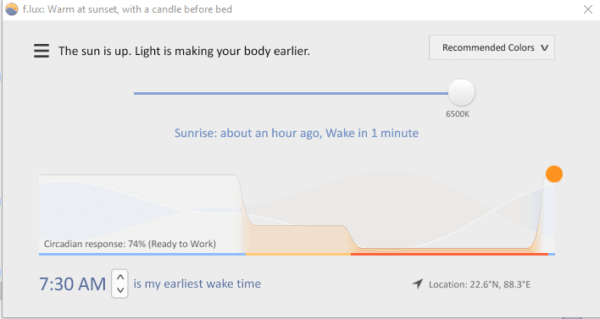 Automatically change the brightness of your monitor as the day passes.
Flux tries to solve this problem by adjusting your computer screen brightness and changing the color as the day progresses. So you don't get the same bright light of the morning at night, which hurts your eyes. Not only this, but it also makes the color of your computer's display adapt to the time of day, warm at night and like sunlight during the day.
Note: If you press ALT + Page UP or ALT + Page Down, you will know that it changes the brightness as well.
You can adjust to what kind of brightness you would like to have at night and also get a preview of it. You can map your location so it can use the daylight savings and other parameters it requires.
Related Read: Automatically Turn off the monitor when you lock it
Apart from the automatic setting, I would suggest trying to change the color and effects settings manually. While the default works, a different color might work better for you. On top of that, you can choose effects like Movie, Vintage, Dark Room, and more.
Lastly, if you use Smart lights, then Flux has rolled out support for that as well. It supports Philips Hue, Colorkinects, Intelliwhite, Yeelight, LIFX. It is handy if you have set them around your working area. The software can adjust lights in sync with monitor and daytime.
At any time you don't feel like using it, you can disable it for an hour, until sunrise, for full-screen apps, or the current app.
This software is pretty much easy to use, and no system hog. Get your copy of Flux now.