Managing your printers can be a hassle if you work from multiple locations. Usually, the default printer will always stay the same no matter which network you connect to. That is annoying because you need to switch manually your default printer every time you switch places along with the network. For this purpose specifically, Windows has a built-in tool that allows you to automatically change default printer when you change Network.
It is an excellent addition to Windows features, however, do not get it mixed with a similarly sounding feature called —Let Windows manage my default printer. As it automatically sets your most recently used printer as your default printer. This feature is somewhat useful, but most users prefer to change it manually as they work from different places with different networks. It is why the feature to switch between default printers based on your location automatically becomes all the more important.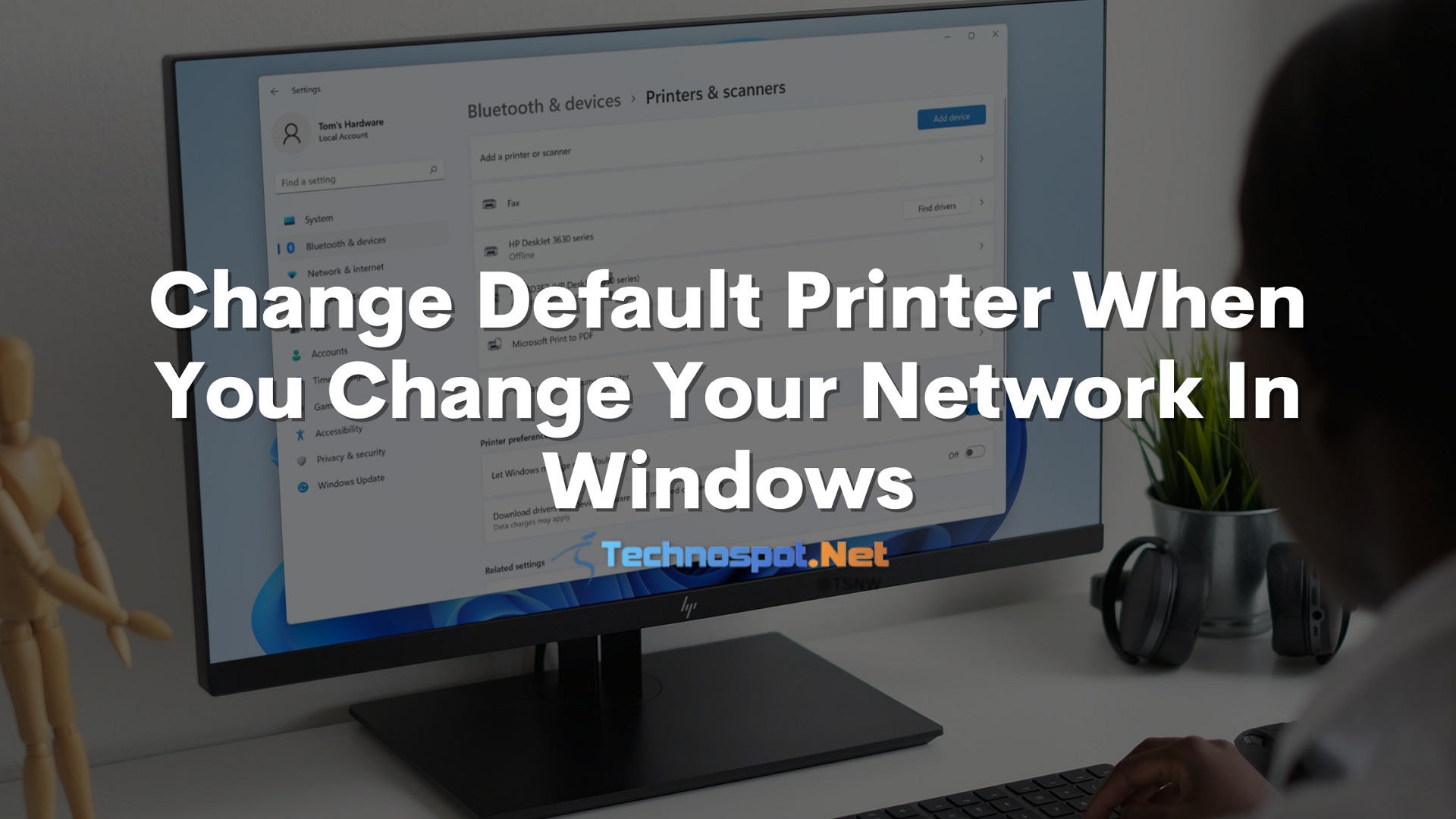 Windows: Automatically Change Default Printer When You Change Network or WiFi
Now that you're fully aware of managing your printer settings. Primarily, make a printer your default, and prevent Windows from changing your default printer. Having known that, let us finally discuss how you can automatically change your default printer when you change your network in Windows:
Open Control Panel, navigate to Control Panel > Hardware and Sound > Devices & Printers.
Upon reaching the option, for your current network that you're using, right-click on the Printer you want to set as default and make it the default printer if you haven't done it yet.
On the bottom of the toolbar, click on Manage Default Printers.
There, select the Change my default printer when I change networks option.
Finally, select and match the printers you want to use on that specific network using the dropdown boxes.
If you want to use one printer across all the networks, but Windows keeps changing your default printer, you can keep it in place.
Prevent Windows From Changing Your Default Printer
When your printer is changing on its own with no apparent reason, it is primarily because, in Windows, there's a setting that lets you change the printer device suitably. Here's how you can turn off manage my default printer option that we've discussed earlier in our article:
Press Windows + I on your keyboard to open Settings.
Go to Devices and then select Printers & Scanners.
Please scroll down and go to the setting Let Windows manage my default printer.
You must Turn off this setting to ensure that the default printer is the last used printer.
After this, select the printer of your choice and click on the arrow next to it.
In the menu, select Set as default. 
When you finally set a printer as default, Windows won't be able to change the default printer even when you change the network.
If you don't want to follow the above solution or if it doesn't work out for you, there's another way to do the same. You can use the Registry Editor, as it guarantees to prevent Windows from changing the default printer. Here's you how can tweak with Registry Editor:
Press Windows + R on your keyboard, and type Regedit. Press Enter to open the Windows Registry Editor.
Backup your Registry database, and navigate to the path given below:
HKEY_CURRENT_USER\SOFTWARE\Microsoft\Windows NT\CurrentVersion\Windows
After navigating to the given path, change the value of LegacyDefaultPrinterMode from default 0 to 1.
After finishing the process, restart your PC and set your default printer by following the abovementioned method.
And there you have it, folks; this is all regarding changing your default printer when you change your network in Windows. This feature is handy and popular amongst professionals, and you should also start using it. We hope that you found this helpful article.
How Do I Permanently Set a Default Printer in Windows?
To select a printer as your default, press the Start button on your keyboard and go to settings. Navigate to Devices > Printers & Scanners > Choose your printer > Manage. Finally, select Set as default for your preferred printer.
Why Does My Default Printer Keep Changing?
If your default printer somehow keeps changing on your computer, several annoying reasons can be that. Here's the list of some of the major issues reported by the users themselves:
Default Printer Keeps Switching After Reboot/Log Off: If your default printer keeps changing after reboot or after logging off, this might be due to outdated or faulty drivers. Be sure to update your drivers, and this problem will most likely be resolved.
Default Printer Reverts Back To Another Printer: This issue often happens due to some minor system bugs. Update your system to the latest version and see if this fixes the problem.
How To Check Whether My Printer Is Connected to a Common Network?
To do that, you must print the Wireless Network Test Report. On the printer control panel, tap the setup button. From the network settings option, click on Print Network Configuration Page.