While working on a notebook or a laptop, we generally tend to look for the ways which can be helpful in order to get an extended battery life in case of power failures. There are several ways to get the most out of your laptop battery. Ashish has compiled an awesome Guide to Save Laptop Battery Life using Windows 7 Part 1 and Part 2.
To add on the Tools Section, here is a small app, which can automatically change Power Plan, Disable Aero Theme, Mute Speakers like activities as soon as the system starts running on batteries, in order to get the most out of the batteries.
Aerofoil is a small app which helps you to do this, all you need to do is install this app, and whenever the power failure occurs, it automatically changes the color scheme, disables Aero Glass theme, also you want you can choose to automatically mute the speakers.
Have a look at the snapshots below –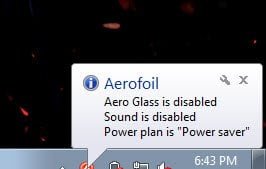 While you are installing the Aerofoil it asks you to choose the power plans while on AC and while on batteries, and once installed it automatically switches the power plans on the basis of this selection you made.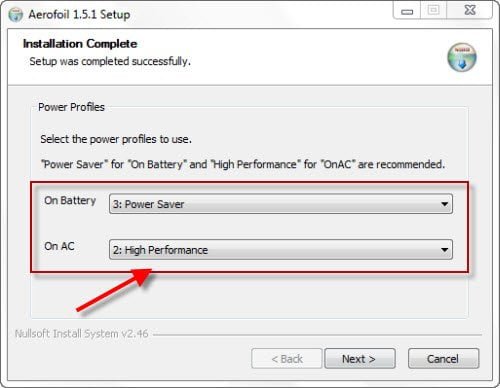 Muting the speakers, or permanently disabling the Aero theme, Hibernating, etc. like operations can be done by right-clicking the system tray icon.
So, go ahead and download Aerofoil, and enjoy the longer battery life. Do share your experience with Aerofoil with us via comments. Download Aerofoil