Forgetting to shut down your pc is nothing new for many of who like to watch movie or listen to songs at night and there are many more reasons but if you are really concerned about saving some energy and bills, Auto Shutdown for Windows is an excellent program which you can use.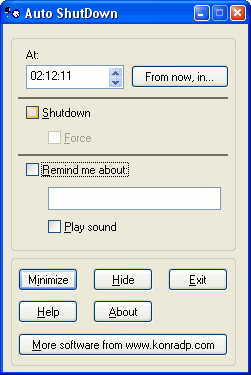 Features :
You can set in the time when you want to shut down and this application will take care of doing it nice and clean.
Force a PC shutdown if you don't mind killing of some programs in between but make sure you do not break downloads.
This application can also pop up a reminder which helps you at times when you did set an alarm but you are awake and don't want to shut down your computer.
There are similar applications like Shutter, Shutdown manager, Z-Cron, or use a Windows Task scheduler hack to do so. Download Auto Shutdown for Windows.
Related : How to abort system shutdown