According to Wikipedia, "Groove Armada are a big beat duo Andy Cato and Tom Findlay from England. They are now primarily based in London, and continue to produce and record music as well as hosting semi-regular club nights in London and an annual London festival under the Lovebox banner.
Groove Armada is probably best known to the music listening public for producing music that have featured in numerous media including advertising campaigns, movies and computer games" Read More..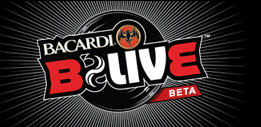 What is Bacardi B-Live Share?
Bacardi B-Live Share is the name for service which allows you to download the Go track from Groove Armanda, and when you share (refers to sending out links for downloading the same song to others)  it with others you can unlock other track to download based on following rules –
Share Track 1 20 times to unlock Track 2
Share Track 1 200 times to unlock Track 3
Share Track 1 2000 times to unlock Track 4
You can either save the MP3 file directly to your computer or MP3 Player, or subscribe to the BACARDI B-Live Share podcast which will automatically download rewards to your MP3 player as you earn them.
How to Share?
Once you have registered yourself with the Bacardi B-Live Share, you can start sharing the download, under the 'You' tab you can find the unique URL (downloads done using this URL will be accounted on your name), you can also choose to post the embed code or the Facebook application for providing the download link, you can also invite friends to join by entering their email.
You can also track your network and followers on Bacardi B-Live share visually, and this looks amazing, can also be seen fullscreen if you feel like.
Below is the link for download the song, Please download, so that I can get the next song soon
Manav has shared an exclusive Groove Armada track with 0 people on B-Live Share
Get the track for yourself and start sharing
Try Bacardi B-Live Share ( Does not work any more )