Windows Startup is an essential part which determines how fast your windows becomes ready to use. Basically there are many programs which register to start as soon as you login. One one hand it is good as you don't have to launch it but it has been seen that many a times it results in testing the patience of the user and very slow windows.
Though it is advisable to configure the windows start-up with applications like Autorun but there are scenarios when user feel like launching everything when he has time and launching only what is required when you are in hurry. Also it might happen that you changed something and then decide to rollback for which there is no option.
StartUp Selector application for Windows helps you in these scenarios by allowing you to back up  start-up configuration  and then restore it later if you feel you messed up something.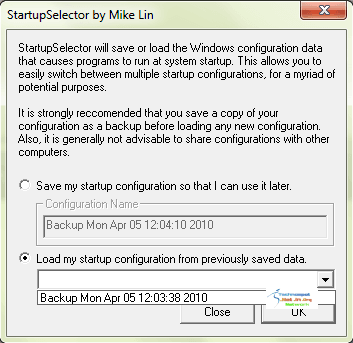 The application is simple and lets you save it with whatever name you want and when you feel like restoring just select from the drop down. It's a good idea to save it with name you can figure out easily. Default is date and time. Also the developer advises not to share the configuration between multiple computer as the installed applications might not be same and may result in poor windows performance.
In case you don't want programs to register themselves with the windows start-up without notifying you, You can use the Disable Startup Application along with it which monitors any application which tries to get into the start-up list and lets you manage it.